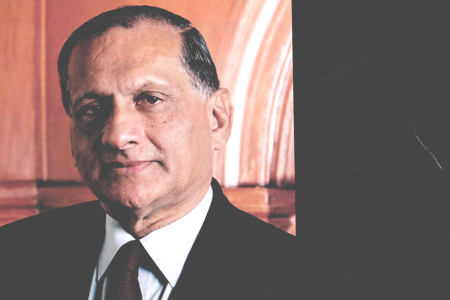 A week in the life of...Lord Bhatia
Issue 3 Jan / Feb 2004
Lord Amir Bhatia, here in conversation with Samia Rahman, was born in 1932 and educated in Tanzania and India. Raised to the peerage as Baron Bhatia of Hampton, in the London Borough of Richmond upon Thames in 2001, he is married and has three daughters. He has business interests in the City in financial services.

''I am blessed with a very supportive wife who is an excellent hostess at the various events I host and uncomplainingly puts up with my crazy schedule''
I usually wake up at about seven o'clock on a typical weekday. The time I get up is dictated by my appointments for the day and whether I have an early start. I find that I have never needed to rely on an alarm clock. Somehow, I instinctively always know when I need to be awake.
After prayers I take a light breakfast with my wife and then it is straight to the study where I spend the next couple of hours. Occasionally, I may have an early meeting in the morning otherwise it is at this time I speak to my PA who is based in the City office and deal with any mail and plough through the many emails that I have received overnight. To meet my commitments it is essential that I organise my time and clear the workload that builds up and ensure that everything is dealt with as it comes in. The morning is the ideal time to get all the mail and messages out of the way. Life has become easier thanks to the extensive IT facilities that I use.
I don't think I could do a quarter of the work I pack into each day if I didn't use IT. Technology has enabled me to be efficient. Once I have dealt with emails, messages, and faxes I make my way from my home in Hampton to Central London.
Apart from my work in the financial services I am heavily involved in the voluntary sector and Chair a number of charities. Being in the House of Lords has created another big sphere of interest. There is no such thing as a typical week. I am usually at the House by midday from Monday to Thursdays and occasionally on Fridays.
One of the major charities that I chair is the Ethnic Minority Foundation (EMF) whose objective is to build a secure base for the ethnic minority communities and its voluntary sector. EMF's aim is to help bring the minorities from the margins into the mainstream. It is building up an endowment fund of £100m over the next five to ten years.
A great deal of my time is currently committed to the establishment of the British Muslim Research Centre (BMRC) which is a think-tank and research organisation. Its work will inform policy makers of the needs, aspirations and ambitions of the Muslim community in Britain. BMRC recently conducted 17 seminars on different themes like Education, Women, Citizenship, etc which affect Muslims. Through these seminars, which were attended by Muslims professionals and policy makers of all faiths, BMRC was able to connect with many Muslim professionals and to identify major issues facing the Muslim community.
Once in the House I usually meet with the voluntary sector people and policy makers. This would be over lunch or in a meeting room. I am usually in the Chamber at Question Time (2.30pm to 3.00pm) and stay on to listen to or participate in debates.
Around 5pm I make my way to my City office to attend by business work, to sign correspondence and deal with messages. About 2-3times a week I would return to Westminster to attend debates and then make my way home by car. At least once a week there is a dinner meeting, and so a late night at home.

My days are often hectic but I keep on top by dealing with things as I receive them. It is never easy to juggle a heavy workload but experience has taught me to be selective and allocate time appropriately and realistically. If I have to deal with complex paperwork I will look over it in the evening or place it in my weekend basket if it is not terribly urgent. Evenings and weekends are the only times I can be sure that I won't be interrupted.
I am usually home by about 9pm if I do not have any evening arrangements. I then spend another two hours working in my study in order to deal with all the correspondence that has arrived during the day. I endeavour to be organised to I can respond as soon as possible.
I am blessed with a very supportive wife who is an excellent hostess at the various events I host and uncomplainingly puts up with my crazy schedule. We have a huge family so she often attends family functions on my behalf if I am unable. My three daughters have all flown the nest but I am very close to them and also to my grandchildren who range in ages from 2 to 20 years. One of my daughters is a GP and lives next door.
The fact that I work such long hours is not ideal but I manage to have an evening meal with my entire family at least once a week and we are constantly in touch on the phone.
My family and my faith are my support, inspiring me to work as hard as I do. I grew up in Tanzania and I remember as a young boy I would help frail elderly people take off their shoes when entering the mosque. Islam's value system dictates my ethics. Spending time with my family is how I relax. I go on walks and regularly go swimming.
I like to listen to music and read. But I never have as much time to indulge as I would wish before work inevitably interrupts.
Lord Bhatia has been amongst others, a trustee of Oxfam, the Community Development Foundation and Water Aid. He is the co-founder and the chair of the Ethnic Minority Foundation and has also been involved in health, education, training, and employment sectors in London as a trustee of St. Christopher's hospice, Project Fullemploy, and the Diana Princess of Wales Memorial Fund. He became Chairman of SITPRO Ltd, the UK's trade facilitation agency in 1998. Lord Bhatia also chairs Local Investment Fund and the British Muslim Research Centre.

Share this


Link to this
Printer Friendly