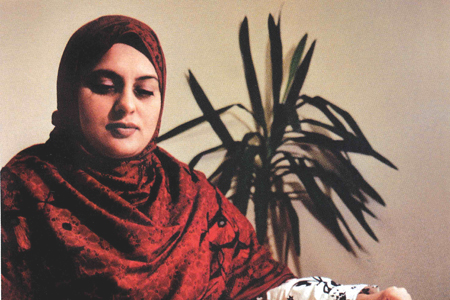 Drawing in the Past
Issue 3 Jan / Feb 2004
"At this moment, I want to revive the art of calligraphy and miniature painting. This is beautiful art and it's our Muslim heritage, we want to preserve it."
Nargis Imran is a classically trained artist, who works in various traditional Muslin art forms and in particular the increasingly rare specialty of Miniature Painting. Although she works from home in Halifax in Yorkshire Jonathon Peacock was able to meet her on a recent promotional trip to London.
"At this moment, I want to revive the art of Calligraphy and Miniature Painting. This is beautiful art and it's our Muslim heritage, we want to preserve it" – Nargis Imran,
Although Pakistani by nationality, Nargis was born in Dubai in the UAE, and it is while studying there that she first discovered her interest and aptitude for art. Initially she studied in Dubai's Pakistan Education Academy and subsequently progressed to a fine Arts degree in Lahore after moving to Pakistan. During this time her training interest was initially focused on more mainstream forms of art such as watercolour painting after the western style, and in particular, textile design, in which she pursued a separate diploma.
As she grew as an artist she became more aware of a largely neglected area of her own artistic and cultural background – Miniatures Painting, in particular of the Mughal Dynasty period. Her teachers encouraged her to branch out into this field, and she found herself increasingly drawn to it, "the bright colours and detailed work is very different and no one is trying this because it is so difficult. It is our heritage so why not preserve it? That was my main reason for adopting his field. All the other people were doing textile design and water-colours. This is a rare six hundred year old tradition." The Miniature Painting form has its roots in Islamic Persia and Turkey, and was introduced to India in the sixteenth century by the Mughals, a dynamic Islamic dynasty with Turkish and Mongolian origins. Successive rulers imported the artists and teachers of Miniature Painting techniques from Persia and Turkey into India.
Two seventeenth century Mughal Kings, Jahangir and Shah Jahan were particularly influential in introducing and supporting these innovations. The Miniature Painting of Jahangir's reign are renowned for their depictions of birds and animals while the biographical Shah-Jahan-Nama are renowned for their colourful and decorative style. Miniature Painting in its earliest or Classical form was usually commissioned directly for the King or his family, rather than for public display. These individual works would show scenes from courtly life, portraits of the royal family in their finest armour, ceremonial or most spectacular clothes, or illustrate particular examples of the King's military victories or prowess in the hunt. With their small size (most works being small enough to hold in one hand) and wealth of lavish detail, they were ideally suite for one individual to appreciate at his leisure as well as making a decorative addition to a King's personal wealth of riches.It was not until later years that Miniature artists bean to produce pieces for wider public display, known as Formal works often featuring scenes from the Qur'an or local folk stories and traditions.
After making the decision to concentrate on Miniature Painting, Nargis redirected her studies. This meant rather another four years of intensive training, firstly in Lahore and then at the Fatima Jinnah University in Rawalpindi, where she took her MFA Master's Degree in Fine Arts specialising in Miniature Paintings. She has gone on to exhibit widely and also win several prestigious awards in Pakistan, including National prizes in 2002 for the Best Miniature Painting (awarded by the Ministry of Culture) and the Best Calligraphy (from the National Council of Art). Before moving to England this year to be with her husband Imran she lectured in Islamic Art at Fatima Jinnah after wining their Outstanding Student award, as well as heading the Miniature Painting department of the Rawalpindi Arts council and continuing her research and development of Arabic Calligraphy and early Islamic pottery.Nargis' exacting training is an example of the painstaking lengths that Miniature Painting artists go to in order to ensure that traditional methods and levels of quality are maintained.
The students are taught to make their own brushes from a few hairs from the tails of squirrels or kittens. Some of the brushes for the finer detail of work are only three of four hairs' width in thickness. Nargis has also taught herself to grind up her own pigments using plants, flowers and minerals, in the style of the old Miniature Painting masters.Even the traditional paper used for Miniature painting has to be specially prepared. This paper is known as Wasli from the Persian word for 'joining', and consists of several sheets of paper stuck together with a paste made from cornflower and copper sulphate and burnished to a painting surface with a piece of marble or a shell. Not only does this process produce a tougher and stiffer painting surface than paper, but the toxic Copper Sulphate deters insects from gnawing away the artwork.
So sturdy is the Wasli and so rich are the colours produced in traditional hand ground paints that as Nargis explains, "after hundreds of years, all the detail is preserved." Due to the intensity of concentration involved in such exquisitely detailed pieces, Nargis has special eye exercises to improve and even preserve her eyesight. Other physical techniques assit in her work, "In Miniature Painting we sometimes need a steady fine line in the painting so we hold our breath to achieve this. We do exercises to control the tremor of our hand and practice holding our breath for minutes on end while working on very fine lines like the hair of an individual in a portrait."
Another difficulty is for aspiring miniature painters like Nargis is the scarcity of original reference materials. After opportunist British art lovers of the colonial Era had pickd over India's heritage, the best collections of vintage miniature pieces are now found outside of the subcontinent mostly in London (in particular, at the Victoria & Albert Museum) and the United States. Ironically with the exception of a collection in Lahore of some 40-50 Mugahl pieces and a few other limited reference sources, today's heirs to the Miniature Painting tradition rely on the high-definition reproductions of these ancient works in V&A art books to guide their development.
Nargis draws from various sources for her work. As well as being commissioned to paint specific pieces for various clients she is "inspired by Mughal miniatures and traditional court scenes. We were studying Matisse but this is a totally different thing, painting the fairy tale stories of Pakistan, different subjects from our cultural issues. I like the Mughal miaitures they are very traditional not modern or contemporary art because of the colours and the style." Within the Mughla tradtion the work that Nargis has produced covers many of the old techniques from the monochrome Siyya Kalam ('Black Pen') sketches to the vibrant Guchrang ('Colourful') pieces.
She has also turned her calligraphic skills to ceramics, developing a reputation for her rare skill in decorating not only the surfaces but the inside of pieces either by hand or where necessary using more of her handmade specialised equipment. Nargis admitted that it can be frustrating trying to promote an art form that requires a patient and close scrutiny of the work to appreciate its complexity and beauty. It has also often been neglected in Western appraisal of Art in favour of more familiar styles. "People don't know about Miniature Painting and our heritage. Modern art, yes, but these (miniatures) are so rare. It is difficult to explain Miniature Painting to people."There is a dearth of new Miniature Painting as few modern artists are willing to undergo the rigours and discipline of training and the intensity of the painting process itself-Nargis can spend up to two months on one ting painting, working eighteen hours every day.
This, plus the scarcity of vintage pieces mean that they fetch competitive prices when they do come on the market (for example at the Miniature Painting auctions that Sotheby's holds every two years). It has also meant that despite having only been living and working in the UK since June, Nargis has sold several pieces and arranged a couple of exhibitors to show her work.As well as an upcoming show at Piece Hall, Halifax in spring 2004 Nargis has displayed her work at the Clock Tower in Sheffield and is planning to return there in summer 2004.Make sure you take this opportunity to see more of the stunning work of this talented young artist, who is breathing new life into historic and often overlooked aspects of Muslim Art and Culture.If you would like more information about the work of Nargis Imran, please contact Nargis at lapisnargis@hotmail.com.
Miniature Painting can be studied in the UK at VITA or the Royal College of Art
Share this


Link to this
Printer Friendly