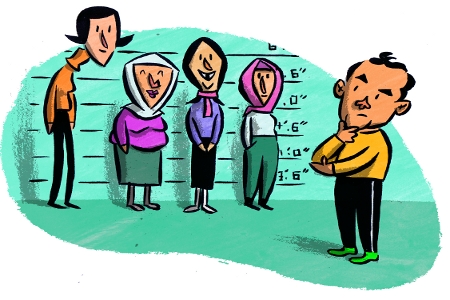 Matrimonials and Chicken Legs
Issue 57 June 2009
I went to a Muslim matrimonial event last week, where they bring Muslims professionals together to meet in a sort of speed marriage intro escapade. I have never been to one and I figured I should go to it. Actually, my mother figured I should go. "Habibi, you might meet some nice people who are just like you." "Yes, beta," my father chimed in. That was usually his two cents whenever my mother offered some advice: "Yes, beta." My mother once said that I should "try out those nice shoes with the big strap that goes across the top in place of laces, I think the girls like boys who wear those. Maybe it will help you get married." And then the inevitable "Yes, beta" from my father. Wearing shiny shoes with a big strap on top will help me get married. I think their comments over the years have become so ridiculous and demoralising that it was only natural to give in to the recent suggestion of going to this matrimonial event.
So I made my way to the event which was being held at the Chinese Cultural Center of California, which left me with certain doubts as to how many people were going to show up. I walked through the front door which had a giant dragon painted on it and looked like the entrance to the Forbidden City. Inside though, I found not the aroma of soy sauce, but of course, chicken curry.
I walked into the tiny hall with two dragon statues in the corners of the room and giant Chinese characters painted on the wall that I think said "This is going to be a nice waste of time, eat your chicken leg and go." It was 8.15pm. The event apparently started at 7.30pm and no one had arrived yet. I sat down, started eating my cold chicken leg, and looked over at the dragon statue in the corner of the room. I could swear it was smiling, no - laughing at me. How do I get in these situations? Why am I not married yet even though I go to every event out there? Why is it that the events I show up to are the ones that flop, and everything I miss is the event of the year? Apparently there was a matrimonial a few weeks ago at the Hilton hotel which I missed because I thought they were a waste of time, so instead I came to the budget matrimonial at the Chinese Cultural Center, and here I am with no one to meet except a dragon, who is still laughing at me.
I got up to leave after an hour, feeling sorry for myself. It was then that I realised I was not the only one there. Sitting with her head resting on her hand, looking a little bit hopeless, was a girl who looked half Arab or half Turkish - or half something. I walked over and she looked up, her face brightening. "Did you just come in?" she asked. "I was at the opposite side of the room," I responded. "Are you enjoying the food?" I didn't know what else to ask. "Yeah I love two-day old cold chicken," she said with a big smile. "Where are you from?" "New York, but my parents are originally from the Middle East and Pakistan, I'm half and half." "Oh wow, so you must have a really interesting grasp of cultures and different languages" she said with her eyes open wide and a wider smile, "I'm half Turkish half Persian, I speak Turkish and Farsi." Then her smile suddenly dropped and she looked down at her cell phone. "It's 10pm, I have to go, my father is picking me up. He made me come here becauseI'm almost 30 and he's getting tired of me not finding anyone." "But the event hasn't even started yet. What if you find someone?" I said with an innocent smile. She pulled out a pen and wrote her email address on a napkin with her name under it, and handed it to me. "My name is Zeyna. Let's keep in touch. I want to hear more about this experience of Middle Eastern and Pakistani culture you have, I am planning a trip with my co-workers at the university where I teach. We're going to Egypt for a conference and it would be great to hear our suggestions on places to go." She was a lecturer, perfect. "Sounds good, let's keep in touch."
If I have learned one thing in my 31 years, it's not to doubt the advice of your mother. I went home that night and began to think about how there could be hope in meeting Zenya. If all goes well, the next time I come and put my thoughts on paper, it should be about how my first encounter with her went.
Share this


Link to this
Printer Friendly