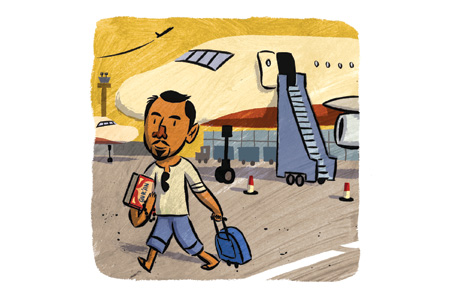 Sudanese Insights
Issue 57 June 2009
I arrived in Khartoum to deliver a lecture at the National Student's Conference. I had heard so much about Sudan and remember looking hopefully towards the Sudanese democratisation process during my student days. But I was disappointed – what transpired was not my idea of a democratic Muslim country.
In the morning I came down to the hotel lobby to meet my driver – and an entourage of people, a convoy of jeeps with military police and an armed police escort! I boarded one of the jeeps which swiftly took off amid sirens that cleared the road ahead. Khartoum looked like a prosperous city; the Nile cut through the capital and there were large developments with big-brand companies opening their offices along this famous river.
We arrived at a huge marquee with thousands of people inside where the Sudanese President, Omar Al-Bashir, gave a long rambling speech to much cheer and excitement. That afternoon I delivered a lecture on Islam in Britain to the youth of Sudan who had gathered from all over the country. I saw Mr Al-Bashir seated on the high chair. This was a first for me: to lecture in the presence of a head of state. I was told that there were many MPs from the Sudanese parliament in the audience and several well-versed scholars. After giving a brief outline of the challenges and opportunities facing the UK, I addressed the President. His iron grip on power, his policy of locking up political opponents, his prolonging of the war in Darfur were not serving the interest of Islam and Muslims. I congratulated the Sudanese people for being resilient in the face of internal and external challenges. There was a barrage of questions afterwards – but none critical of my comments about the President.
The next day I had a meeting with the Sudanese Foreign Minister. He was an extremely sharp and able man, and British educated. He listed a catalogue of foreign policy blunders by the UK government. He was scathing about Bush. We talked about the oil wealth that had been helping shape Sudan, and how it had the potential to bring corruption and lethargy as in some Middle Eastern countries. He assured me that the Sudanese people would remain hard working. They had invested a great deal of oil revenue on education and infrastructure.
We were then joined by a very tall man whose skin was the blackest black I had ever seen and whose smile would easily melt the hardest of hearts. I was mesmerised by his presence. He was a former SPLA rebel fighter who had laid down his weapons and had chosen the path to peace. Now he was a Minister. He gave me a detailed account of how the peace process had opened up the potential for sharing the country's wealth fairly.
Over lunch we discussed the UK. The rise in extremism was a worry for my host. He did not want to see Islam being hijacked by lunatic fringes and was keen on extending a supportive hand. I told him the best way his country could help Muslims in the West was by being an example of a stable, democratic society.
I was then taken to an industrial development where you could buy anything from a car to a cooker. Inside the giant factory I came across some Bangladeshi workers who were terrified by our presence. Something inside me said they were in trouble. I went over and asked them in Bengali if everyone was OK. They looked shocked and told me they had been working for over a year with only rationed food and a place to sleep; no wages and not permitted to go home. When a few of them rebelled they had been severely beaten and two were killed. They pleaded with me to help.
I demanded to see the Managing Director, only to be told that was not possible. I raised a storm and told them I was not going anywhere until I got to the truth of these allegations. Within minutes the CEO of the company was waiting for me in his office. He denied the allegations and said he hired foreign staff through an agency. After 20 minutes a woman from the agency appeared looking very hot and bothered. She admitted the workers only got paid when her company was paid. She could not deny or confirm the abuse and death. I told the CEO he had better look into this. This was racism of an ugly kind and he should not tolerate it. After several phone calls I was told the Foreign Minister who I had met earlier had come to know about my concerns and he would personally look into the matter. I left Sudan happy but with an urgent desire to return and travel round the country to meet the real people, away from the powerful elite.
Share this


Link to this
Printer Friendly