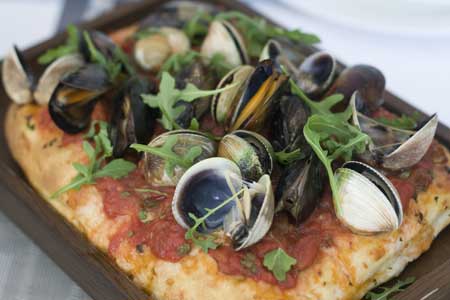 Taste of the Mediterranean
Issue 57 June 2009
Warm summer evenings provide the perfect setting for an Italian inspired dining experience filled with rustic and rich flavours. Bon appetito.
RECIPES & FOOD STYLING RUWAIDA RANDAREE & NARGES MARVASTI
PHOTOGRAPHY STEVEN LAWSON
ROAST CHICKEN WITH VINE TOMATOES


INGREDIENTS
2 chickens, cut in to 4 pieces each
vine ripened tomatoes
3 whole balls of garlic
4 tbsp olive oil
1 tbsp tomato purée
1 tsp lemon, pepper & salt
rosemary
METHOD
1. Preheat oven to 200ºC/Gas mark 6.
2. Make a paste with the tomato purée, lemon pepper and salt, and olive oil. Use this paste to marinate the chicken.
3. Place the chicken, tomatoes and garlic balls onto an oven tray. Drizzle with the remainder of the olive oil and place into the oven. Allow to cook for 30 – 40 minutes.
POLENTA (SERVED WITH THE ROAST CHICKEN)
INGREDIENTS
175g quick-cook polenta
2 tbsp mascarpone cheese
50g vegetarian Parmesan
knob of butter
handful of chopped parsley
METHOD
1.Cook the polenta according to pack instructions.
2. When the polenta is softened and smooth, stir through the mascarpone, butter and cheese.
3. Finally serve with the roasted chicken and vine tomato.
TAGLIATELLE WITH MUSHROOM & SWEET CORN


INGREDIENTS
500g fresh tagliatelle
500ml milk
250g mushrooms, sliced
85g butter
1 tin sweet corn, drained
1 small carton single cream
6 tbsp flour
1 tsp crushed garlic
¼ tsp crushed black pepper
½ tsp salt
METHOD
1. Place the tagliatelle in a large pot of salted, boiling water and cook per instructions on packet. Drain and set aside.
2. Place 55g of the butter and flour in a large pan and gently heat, mixing to form a paste.
3. Add in a little bit of milk at a time to dissolve the flour and butter mixture. If the mixture is lumpy, use a whisk to smooth out. Cook until slightly thickened.
4. Add in the seasoning and cream. Stir and set aside.
5. Now fry the mushrooms in the remaining butter and garlic until cooked. Toss in the sweet corn at the end.
6. To the white sauce mixture, add in the tagliatelle and mix through. Then add in the fried mushrooms and sweet corn and stir through.
7. Serve hot decorated with chopped parsley.
FOCCACIA WITH MUSSELS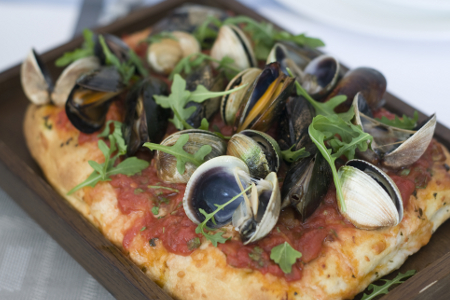 INGREDIENTS
foccacia bread
125g fresh mussels
1 small box passata
½ bunch parsley
1 tbsp olive oil
juice of ½ lemon
METHOD
1. Preheat oven to 220ºC/Gas mark 7. Place the foccacia bread onto an oven tray.
2. Empty the passata into a bowl and finely chop in the parsley.
3. Spread this over the foccacia bread.
4. Place the mussels over the passata.
5. Then place it into the oven for about 15 minutes or until the shells pop open.
6. Squeeze fresh lemon juice and drizzle with olive oil. Serve hot.
MOZZARELLA & CHERRY TOMATO SALAD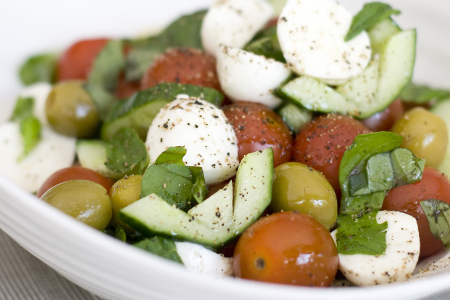 INGREDIENTS
1 tub mini mozzarella balls
250g cherry tomatoes
½ cucumber
I small bunch basil leaves
2 tbsp olive oil
seasoning
METHOD
1. Cut the cucumber into half, deseed and slice.
2. Toss all of the above ingredients into a bowl and serve.
MIXED LEAF SALAD WITH ORANGE & BALSAMIC DRESSING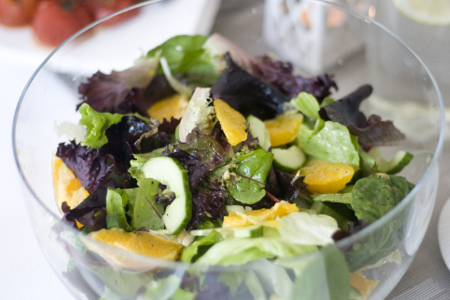 INGREDIENTS
1 bag mixed salad leaves
1 whole cucumber
1 orange
INGREDIENTS FOR THE DRESSING
3 tbsp olive oil
juice of one orange
juice of ½ lemon
seasoning
METHOD
1. Spread out salad leaves into a bowl. Cut cucumber in half, deseed, then slice. Place in bowl.
2. In a separate bowl, mix the dressing ingredients together.
3. Cut the orange into segments and add to the dressing.
4. Pour over the salad just before serving.
CRUSTY BAGUETTE WITH TOMATOES & OLIVES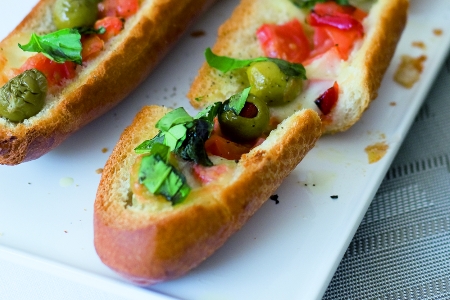 INGREDIENTS
1 baguette
1 tub olives
250g cherry tomatoes
2 cloves of garlic, finely chopped
olive oil to drizzle
1 ball mozzarella cheese, sliced
fresh basil
METHOD
1. Preheat the oven to 220ºC/Gas mark 7.
2. Slice the baguette in half, with the insides scooped out. Place on an oven tray.
3. Cut tomatoes into quarters and fill baguette halves with the tomatoes, olives and garlic.
4. Place the mozzarella slices and torn basil over the top.
5. Drizzle with olive oil and place in the oven for 10 minutes, until the cheese melts and begins to brown at the edges.
Serve warm.
TIRAMASU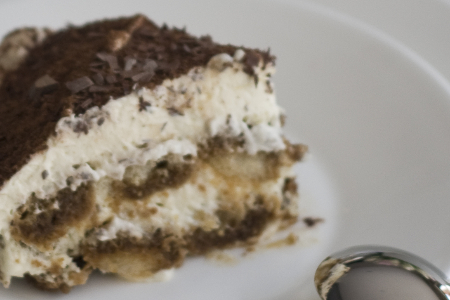 INGREDIENTS
2 large eggs, separated
250g mascarpone cheese
1 packet sponge fingers
50g dark chocolate flakes
1 tbsp cocoa powder
¼ cup caster sugar
150ml very strong coffee
METHOD
1. Whisk egg whites until stiff, then set aside.
2. Whisk egg yolks with the caster sugar until pale and creamy. Then add in the mascarpone and whisk again until smooth.
3. Gently fold in the egg whites in the mascarpone mixture.
4. Spread a thin layer of the mascarpone mixture into an 18cm loose bottomed cake pan.
5. Now soak each sponge finger in to the hot coffee and layer onto the mascarpone mixture. Sprinkle over some of the chocolate flakes. Continue this process for a second layer.
6. Finish layering with the mascarpone mixture on top. Sprinkle with the rest of the chocolate flakes and dust with cocoa powder. Chill and serve.
Share this


Link to this
Printer Friendly