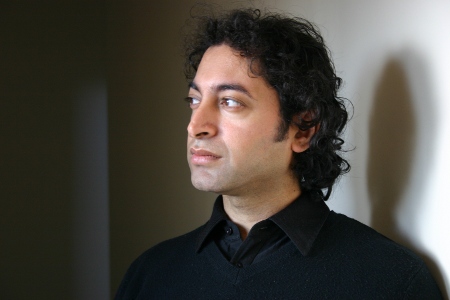 Eco Mosque
Issue 57 June 2009
Zahid Hussain, 37, left the private sector to focus on developing the 'social economy', and is now CEO of a faith-based social enterprise Regenesis Squared. He is also a novelist and performance poet. His debut novel, The Curry Mile, was released to wide acclaim. He teaches creative writing in schools and colleges and recently launched Manchester Muslim Writers.
In my lifetime the spectre of global catastrophe has appeared on the horizon, a distant and ominous black cloud. The world's temperature is rising and scientists argue whether it is already too late.
It is hard to believe that at one time we did not care for petroleum or natural gas or nuclear power. Despite all our cutting edge technology, we fail to generate cheap clean energy. We have sun, rain, geothermal and hydroelectric power in abundance but we have a deadly addiction: against nature, we prefer to extract crude oil from the depths of the earth, leaving scars and cavernous holes deep underground.
A chance conversation with Usman Ali, President of the Islamic Society at the University of Salford, led to the idea of EcoMosque. It was born at that very moment as we stood on the university campus: instead of simply building or relocating to a new building, why not create an environmentally and economically sustainable mosque? It would take years, but it would be worth it, not only because of the urgent demand for better facilities on campus, but because as Muslims we have a pivotal role to play in saving our planet.
Not only is EcoMosque intended to incorporate eco-materials and green energy, it aims to help create the first Degree programme that fuses faith and ecology. It hopes to encourage other mosques and ISOCs to realign their thinking on the economic and environmental impact that mosques have on the world.
The project is still in its early phase of creation and it will take another 3-5 years to realise fully. However, once we enter the official planning stage for the building, we shall populate the EcoMosque website with links to resources for transforming mosques everywhere. We are confident sponsors keen to foster the development of EcoMosques will join us in creating this first mosque, with many others to come in the future, insha-Allah.
Our hope is that one day all the mosques in the UK will chose to provision their electricity and gas from 'clean' and green energy providers. We must use less water. We must waste less heat. We must reduce, recycle, reuse. We must harness our intelligence and creativity and show the world that Muslims are a boon to our planet.
And yet I feel there is a great irony at the heart of all this. Despite launching this 'new' idea of an eco-friendly mosque, the first mosques built were Ecomosques in every sense of the word. Ecomosque isn't a 'new' idea at all, it is an old one brought out of the attic, dusted off and presented to the world. We're going back to the way our mosques once were, should be and insha-Allah, will be. And if we can do that, the black cloud that nudges the horizon will disappear as though it had never been.
Click here to return to main article

Share this


Link to this
Printer Friendly