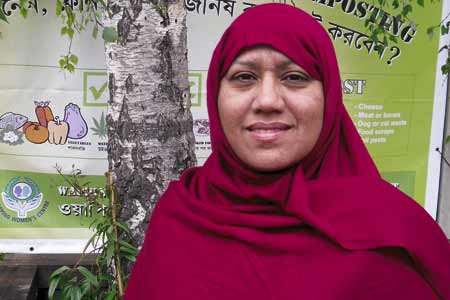 Eco-Community Gardening
Issue 57 June 2009
Sufia Alam is the Manager of Wapping Women's Centre, established in 1981 and based in East London. The organisation aims to empower women by providing a safe and supportive environment, and giving women access to educational, social and recreational programmes and activities.
I was brought up in Yorkshire; then I married a Londoner and moved down here. I was shocked: there were few green spaces in the area and everything was so dirty. London is undoubtedly congested, but I found the Muslim community accepted the mess. Islam teaches us to look after our environment, which includes our neighbourhood, yet I found nobody took responsibility for their actions and insisted the mess was someone else's and the council would clean it up! I have been manager here at the centre for
11 years, and work on our Community Garden Project. The idea for the garden project came when the Chair of the Wapping Women's Centre, Aysha Mahmood, was going into retirement after over a decade of youth work and wanted to leave something behind for the local women to remember her by.
It has blossomed into an inspirational scheme, which allows women on a housing estate to grow organic vegetables that originate from their homeland of Bangladesh. The gardens are based at the Berner Estate, in between three blocks on flats. Prior to the project, the land was a dumping ground for local residents and attracted a lot of vermin.
After consultation with the local residents we designed garden plots that would cater for the needs of local people who used to grow vegetables in planters on their balconies. The council helped set up this platform to engage with Muslim women, and the local housing office was very supportive of our garden proposal, for it meant they would save money in maintenance costs.
Over the last 10 years the project has given the local women who are predominantly from the Bangladeshi community a focal point. A group of 50 women signed up, aged between 25 and 65. It was wonderful that the women were so eager to grow their own vegetables and herbs. The project has opened up opportunities for women to make their own compost and train the young gardeners, and allowed for them to socialise outside of their homes.
We have recently been allocated some land for people with disabilities and young children to have access to growing. Tower Hamlets is a much cleaner and jollier place to live in now, and the council has invested so much to make it so. The project also includes a composting site for the local residents. I feel passionate about working together to combat litter and spread the message of recycling. I want to urge people to take responsibility and remember that we are all accountable in the eyes of God. As Muslims we must try to be an example to others.
Click here to return to main article
Share this


Link to this
Printer Friendly