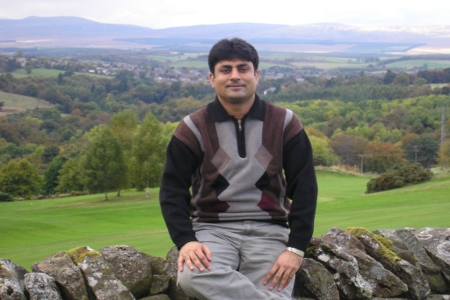 Water Conservation
Issue 57 June 2009
Muhammad Afzal, 33, is a Pakistani Muslim living in Britain who volunteered with WWF Scotland as a campaigner and presenter. He works on an Eco-school project in Shorkot, Punjab, and his aim is to work on safe drinking water supply in Pakistan.
I was born in a village in the Punjab province of Pakistan. Playing under the trees and swimming in nearby rivers inspired me to study plants and water. After completing my Undergraduate degree in Botany, Zoology & Chemistry, I did my Master's in Botany with a major in Environmental Biology. My research entailed understanding the effects of industrial waste water on plants, which has a direct impact on our eco-system.
A few years ago I started another Masters degree in Energy & Environmental Management in Glasgow, whilst also working on a number of individual and group projects on sustainability and environmental issues. I then volunteered with WWF, running campaigns regionally on climate change issues. It is exciting work: recently we worked on a UK climate change bill to reduce by 80% the GHG emissions by 2050. All this experience gave me a stronger vision about different environmental issues in developing countries. A couple of years ago I travelled back to Pakistan and realised that water resources in the region were being exploited due to poor management and lack of regulations. One of the major issues for the community is the limited potable (fit for drinking) water supply; as infrastructure and sources for water have badly deteriorated as a result of unsustainable practices.
As my faith grew, I became interested in water for further study & research: in Islam, this life-giving element has profound importance, and is considered a blessing from God. The Qur'an says: "And we send down water from the sky in a fixed measure."(40:18) and "O Children of Adam! Eat and drink: but waste not by excess, for God loves not the wasters." (7:31) In the following hadith the Prophet effectively makes water a community resource to which everyone, rich and poor, have a right: "Muslims have a common share in three things: grass (pasture), water and fire (fuel)."
Last year I embarked on a PhD. My research focuses on the increasing variability of our climate and its effect on our water supplies. It aims to improve our understanding of the consequences of climate change on the urban water supply across the UK.
I am still actively involved in WWF campaigning and in the Environment, Health and Development Network at the University of East Anglia. However, my aim is to work on environmental issues particularly water quality issues in developing countries. Water stress is a serious threat to developing nations like Pakistan and India, as their natural water resources are depleting rapidly. Sustainable planning is the only way forward.
Click here to return to main article
Share this


Link to this
Printer Friendly