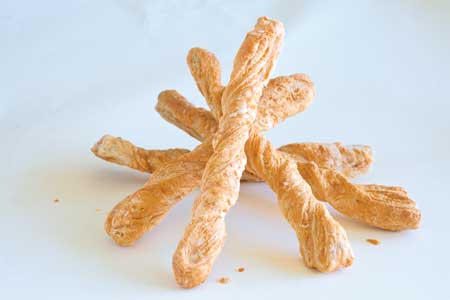 Cheese Straws
Issue 58 July 2009
Makes 10 straws

Ingredients
500g frozen puff pastry (1 sheet)
½ cup grated Parmesan
2 tbsp extra-virgin olive oil
2 tsp minced garlic
1 tsp dried oregano
½ tsp salt
½ tsp cayenne pepper
1 large egg
all-purpose flour, for dusting

Method
1. Preheat oven to 200°C and line three large baking sheets with parchment paper. Thaw the pastry sheet at room temperature covered by a clean kitchen cloth for about 30 minutes.
2. While the pastry is thawing, combine cheese, olive oil, garlic, oregano, salt and cayenne in a small mixing bowl. Stir well.
3. In a clean small bowl, beat the egg with a fork. On a lightly floured surface, gently unfold the pastry. Sprinkle the pastry lightly with flour. Using a rolling pin, roll into a 35cm x 25cm rectangle.

4. Brush the top of the pastry with a beaten egg. Cut in ½ lengthwise to form two (18cm x 25 cm) rectangles. Spread the herb-cheese mixture with the back of a spoon evenly across one rectangle. Lay the second rectangle across the coated piece, egg side-down.
5. With the rolling pin, lightly roll the two sheets together to seal. With a knife cut crosswise into strips, about 1cm wide each. One at a time, grab the ends of each strip and twist in opposite directions to form a spiral.
6. Transfer to the prepared baking sheets. Bake until light golden brown for about 10 minutes. Remove from the oven and leave to cool on baking sheets. Serve either warm or at room temperature.
cheese straws serving suggestion
Cheese straws are just as good plain, especially warm from the oven. They are equally tasty served with a dollop of humous to dip the ends into, or with a tangy tomato relish.
Quiches with Caramelised Onions
Chesse Straws
Share this


Link to this
Printer Friendly