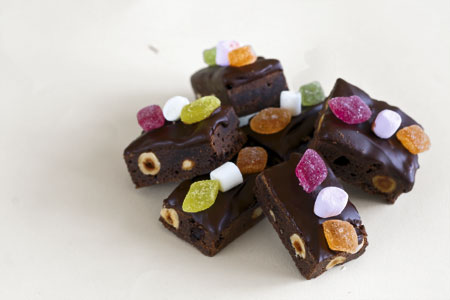 Chocolate Brownies
Issue 58 July 2009
Makes 16 squares

Ingredients
185g unsalted butter, cubed
185g dark chocolate
85g plain flour
40g cocoa powder
50g white chocolate
50g milk chocolate
3 large eggs
275g golden caster sugar
marshmallows and jelly sweets for decorating
Method
1. Add the butter along with the dark chocolate into a medium sized bowl. Fill a small saucepan about a quarter full with hot water, sit the bowl on top. Cook over a low heat until the butter and chocolate have melted, remove the bowl from the pan and leave to cool.
2. Heat the oven to 180°C. Using a shallow 20cm square tin, cut out a square of non-stick baking parchment to line the base.
3. Tip the flour and cocoa powder into a sieve held over a medium bowl, shake to get rid of
any lumps.
4. Chop the white and milk chocolate into chunks.
5. Break the eggs into a large bowl, tip the sugar in. Whisk the eggs and sugar for 3–8 minutes or until the mixture doubles in volume. The concoction is ready when trails on the surface of the mixture form for a second or two.
6. Pour the cooled chocolate mixture over the mousse, gently fold together with a spatula.
7. Hold the sieve over the bowl and resift the cocoa and flour mixture. Gently fold in this powder. Finally, stir in the hazelnut and milk chocolate chunks.
8. Pour the mixture into the prepared tin, scraping it out of the bowl with the spatula. Gently ease the mixture into the corners of the tin and paddle the spatula from side to side across the top to level it. Put in the oven and set your timer for 25 minutes. Bake until the top has a shiny, papery crust and the sides are just beginning to come away from the tin.
9. Leave to cool and decorate with marshmallows and jellies.
Microwave Melt Suggestion
Cover the bowl loosely with cling film and put in the microwave for two minutes on high. Leave the melted mixture to cool to room temperature.
Chocolate Brownies
Quiches with Caramelised Onions
Share this


Link to this
Printer Friendly