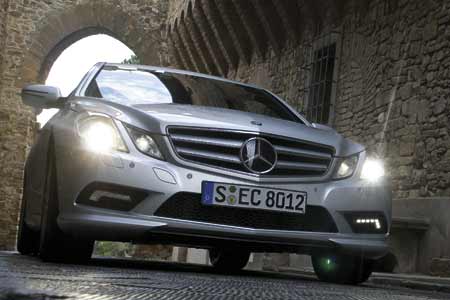 A Touch of Class - Mercedes E Coupe Review
Issue 58 July 2009
The rolling Tuscan hills provide a perfect backdrop for Fazeel Ashraf to experience the classy Mercedes E Coupe.
Photography Steven Lawson
It seems the winds of change are blowing through Stuttgart, but it's only when I think back to 1989 that I realise why. Twenty years ago, I remember travelling to school with my trusty M.A.S.K crusaders lunch box, some badly fitted corduroy trousers, and a hair cut that would make Mr Bean look like a GQ model. Barely able to peer over the dash board, and with the fear of being reprimanded if I even attempted to waiver from my assigned seat, I strained to look at the silver three-pointed star protruding out of my father's 1982 Mercedes 230E. I imagined using it as a cross-hair to line up potential targets like I was in some James Bond movie. Even at that age I realised the Mercedes E was a thing of true class and pedigree. As the years went on, newer models wouldn't evoke the same emotions; the Mercedes of yesteryear had a certain flair which these new fangled models fail to capture.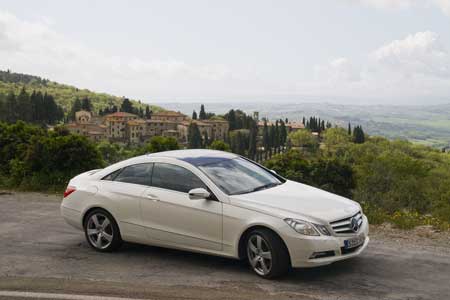 Fast forward 20 years and once again I'm sitting in another Mercedes. Fortunately I'm not on the way to school, but rather find myself on the outskirts of Florence having just polished off a rather sumptuous plate of mushroom ravioli. It's true that I'm always in a better mood after I've eaten, but to be fair it would not make much of a difference today. Over the city of Florence, the dark rain clouds are gathering in unison but tilting my head to my right, you can make out the clearing in the skies adorning the Tuscan countryside in the distance. I really had no other choice but to head off into the hills – which was helped by the fact the sat-nav had already been pre-programmed to head in that direction but that's not the point. It's what I was sitting in that really mattered: the new E-Class Coupé. This time there was no three-pointed star protruding at the end of the bonnet – I assume some EU law deemed it hazardous to winged insects – yet there was no doubt that I was in fact sitting in a superior Mercedes.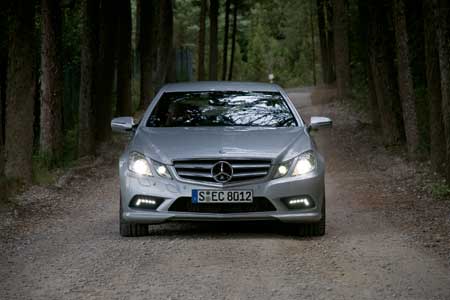 While sporting an aggressive wide angular front without being in your face, the rear melts away softy. It's not as imposing as the Mercedes CL but most will agree that it blends perfectly into its own realm of superiority. Stepping into the cockpit rewards you with an intimate embrace: deep sculpted seats welcome you to slide into them like a glove. Regrettably it's not the same story for the rear passengers. With its sloping rear roof line, and with a driver who likes be practically horizontal (i.e me), it will limit how long anyone would be willing to set up camp in the rear.
We moved off the motorway and on to a more scenic part of our journey where the Tuscan countryside sprawls out into the distance. Making use of second and third gear, the roads toss up a sequence of tight corners that come at you hard and fast. If you wish, you can use the optional wheel mounted paddle shifts even though you can make pretty good progress without them. The down side is that the changes are a little too sluggish and fail to provide the instant gratification and punch one hopes for. Making progress on the outskirts of Sienna, I pushed the car to its limit, rising and falling through quaint little villages passing by grandfathers as they sipped their seventh espresso of the afternoon. The outside elements are filtered out, except for the near muted melody of the V8, gently reminding you of the orchestra that's just a throttle blip away.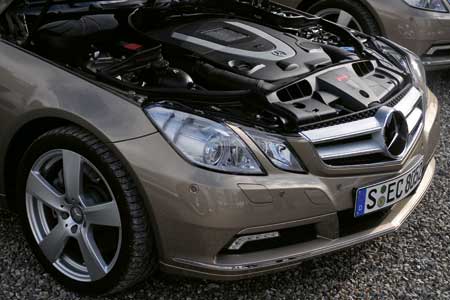 With few bumps to bewilder it, the E-Class Coupé's handling is balanced and responsive, but throw some demanding twists and turns in its path and you find it's more about comfort than a full-on driving experience. The traction control is all too ready to stamp its authority way too early and you don't always feel where the car is. This is where the Audi A5 and BMW 6 series have the edge. Compared to its counterparts, the E-Class Coupé fails to provide the driver involvement or sharpness in its character. The Audi A5 look positively related to P Diddy with all its bling, whilst the BMW 6 Series seems like the boring uncle that everyone shuns at the party.
But what the E-Class Coupé lacks in sharpness is more than made up in refinement. With an array of technology like the sensors that read road signs or even the countless safety features like the instrument panel alerting you with the assigned speed limit, it's not something that will bore you quickly.
There is quite a range of engines available to suit most needs – the most raucous being the E500 at the top of the price range at almost £50,000. On a slightly more sensible level, there is a 3.5 and 1.8 litre petrol but it's the 2.1 litre diesel (250 CDI) that really surprises me. It should be the big seller and seems to skim a good compromise between outright performance and value for money. With an average mpg of 55.4 and zero to sixty in 7.2 seconds, it makes its bigger brother, the 350 CDI diesel version, feel a little redundant. The 250 CDI version is impressive with its instant and linear punch, and unless you're waiting in the car at a traffic light, there isn't much that would remind you it's a diesel.
It was almost the end of the day, and I was enjoying the last few moments of breezing along in a 5.5 litre V8 across the rolling Tuscan hills tendering scores of olive trees. It was at that point that I realised the E Coupé is certainly worthy of being parked next to a classic Mercedes of bygone days. It may not be a heart in mouth driving experience or even a 'look at me' car, but the E Coupé certainly can be described as nothing less than a true gentleman's car. ò
Share this


Link to this
Printer Friendly