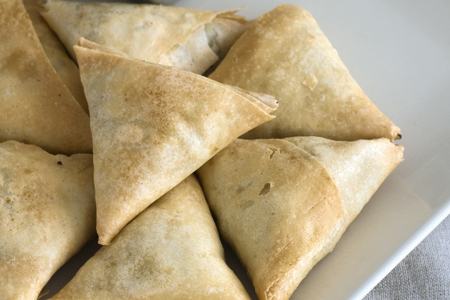 Vegetable Samosas
Issue 59 August 2009
Ingredients
1 potato
½ cup green peas
2 tbsp oil
1 tsp cumin
½ tsp mustard seeds
1 medium onion, diced
1 crushed garlic pod
1 tsp ginger paste
½ tin of sweet corn (optional)
2 tbsp chopped coriander leaves
lemon juice to taste
salt and pepper to taste
garam masala (roast in a dry
pan and grind)
2 cinnamon sticks
4 cloves
1 tsp whole black peppercorns
2 black cardamom pods (use seeds only)
4 whole green cardamom pods
1 packet of ready made samosa pastry

For the paste
½ cup of water
1 tbsp of plain flour

Method
1. Peel and cook the potato and cut into medium dice.
2. Heat the oil in a pan and once oil is hot, add the cumin and mustard seeds and fry till they splutter.
3. Add the onions and cook until translucent, and then add the garlic, ginger paste and garam masala and cook for about 3–4 minutes.
4. Add the coriander leaves, sweet corn and seasoning and stir well, then remove from heat and allow to cool.
5. Mix together the water and flour to form a thick paste. Cut pastry into long strips, then fold into a cone. Insert a tbsp of filling into the cone and fold upwards using the pastry, forming a triangle shape. Seal edges with the paste.
6. Heat oil in a pan until boiling, enough for the samosas are half covered and cook until golden brown.
7. Drain on paper towels and serve with mint yoghurt.
Find more recipes>
< Return to the main food article - Cook One, Freeze One
Share this


Link to this
Printer Friendly