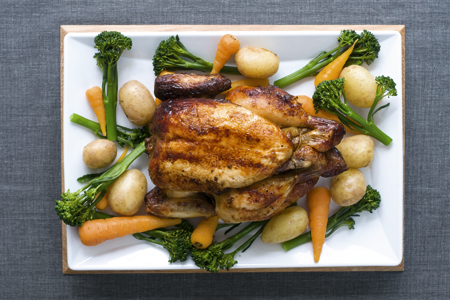 Honey & Mustard Roast Chicken
Issue 59 August 2009
Honey & Mustard Roast Chicken with Seasonal Vegetables
Serves 4

Ingredients
1 roasting chicken
1 lemon
2 small onions
1 handful parsley, chopped
1 tbsp soya sauce
1 heaped tbsp Dijon mustard
1 heaped tbsp whole grain mustard
2 heaped tbsp honey

Method
1. Preheat the oven to 190°C/Gas mark 5
2. Remove excess fat from the inside of the chicken. Then zest the lemon and put aside in a bowl.
3. Slice the lemon and the two onions in half and place in the cavity of the chicken along with the parsley.
4. Add the soya sauce, both mustards and honey to the lemon zest and mix thoroughly. Put 2 heaped tbsp inside the chicken and spread well. Brush another 2 tbsp all over the outside of the chicken.
5. Cover the chicken with foil and place in the oven for roughly 1 hour and 20 minutes, basting with a little of the honey-mustard mix every 20 minutes or so.
6. Remove the foil and turn the heat up to 210°C/Gas mark 6 and continue to cook for another 10–15 minutes making sure the skin browns but doesn't char (replace the tin foil if you feel it's getting too dark).
7. Once done, remove from the oven then serve with a vegetable medley and gravy if desired.
Find more recipes>
< Return to the main food article - Cook One, Freeze One
Share this


Link to this
Printer Friendly