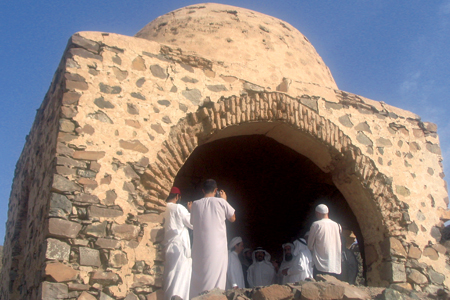 Rihla to Madinah and Makkah
Issue 59 August 2009
Journey of enlightenment
Words & photography Noreen Ayesha Kassem
In Arabic literature a rihla is a journey for the sake of knowledge, enlightenment and spiritual advancement. It is more than just a journey: a rihla is to return. One may embark on many rihlas in many forms before the ultimate journey back to God.
The Deen Intensive Foundation, a North American initiative in reviving the journeys toward sacred knowledge, organises rihlas to different locations around the world, including America, Spain, Morocco, Madinah and Makkah. The foundation seeks to preserve and propagate the core sacred sciences of traditional Islam by bringing together students with eminent scholars like Shaykh Abdullah bin Bayyah, Shaykh Muhammad Al-Yaqoubi, Imam Zaid Shakir,and Shaykh Hamza Yusuf.
The rihla consists of a mixture of intense learning and deep contemplation. It has been held in the sacred cities of Madinah and Makkah three times, giving those on the journey the beautiful chance to walk in the footsteps of the Prophet. There is no place in Madinah that has not had a Qur'anic verse or Prophetic hadith revealed or spoken. In the Rowda, the area around the pulpit in the Prophet's mosque extending to his burial place, there are untold blessings behind every pillar, and in every corner. It is said that not a day dawns except that 70,000 angels descend on the grave of the Prophet and rub their wings on it, seeking blessing, seeking to be ennobled by it. Then each evening, 70,000 more angels descend and they will continue to do so until the Day of Judgment.
The drive to Makkah from Madinah passes through harsh, beautiful terrain: cracked sun baked earth, green groves and mist covered peaks. These mountain ranges have sheltered the Sacred Cities for thousands of years. An extraordinary sight is that of the lava tracks of Harat Rahat,extending for over 300 kilometers south of Medina. Measuring over 20,000 square kilometers it is the largest lava field in Saudi Arabia, an implausible expanse of soot-black, jagged rock.
Scholars relate a prophecy that foretold a great fire in the land of the Hijaz that would be so bright it would be seen in Sham (present day Syria), hundreds of miles away. In 654 AH, 1256 AD the earth rumbled with a series of earthquakes and six volcanic cones spewed forth molten rock. The Madinans prayed for three days for God's mercy,and miraculously, only four kilometers from the Prophet's City, the deluge of fiery lava changed course, saving the city from impending doom. The diversion of the lava flow from Madinah remains unexplained by geologists. Today the mounds of black, sculptured rock perfectly preserved in a wasteland of unearthly beauty, are testimony to God's blessing and protection of His Messenger's city.
Most of the lecture sessions of the rihla take students to where Islamic history unfolded, from the battleground of Uhud, to the cave of contemplation on Mount Hira. Makkah is a place of primordial knowledge of God; a place where angels descended and prophets walked. Deen Intensive offers annual summer courses that consist of four week retreats for men and women seeking to further their knowledge and focus on worship.
www.deen-intensive.com

Find out more about each of our Spiritual Retreats this Ramadan:
The caliph Abu Bakr made three supplications for this special place.
The Alqueria offers a calm haven of reflection and respite amongst unspoilt natural surroundings.
Share this


Link to this
Printer Friendly