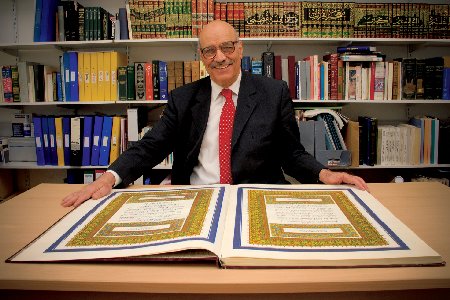 For those who reflect - Professor Abdel Haleem
Issue 60 September 2009
Professor Abdel Haleem, OBE is Director of the Centre of Islamic Studies at the School of Oriental and African Studies
My relationship with the Qur'an started from childhood. I was five years old when I began learning it by heart in the village school in Egypt and by the age of 10 I had become a hafiz. My father, who was also a hafiz, encouraged me to commit the Qur'an to memory. In fact he made me vow that I would recite the Qur'an every day of my life.
To this day, I have never broken my promise. I aim to complete the Qur'an each month and I even fulfil my daily quota on the London underground on my way to work.At SOAS, I teach Language, Style and Translzation of the Qur'an. I discover new things about the Qur'an all the time, especially through discussions with my students. One day, when they told me that other translations of the Qur'an were difficult to follow, it prompted me to begin my own translation in a language people can understand and find accessible. It took me seven meticulous years to translate the Qur'an, alongside teaching. The Qur'an is everything in my life. It is present in my mind all the time.
From the beginning to the end, the Qur'an has a grip on you when you understand its meaning. I feel that Muslims, both in the West and the East, have a great task of learning about the Qur'an and of introducing it to non-Muslims. In Ramadan, I recite it even more. Every time this holy month comes around, there is a time during it that I suddenly feel a deeper understanding and connection with the Qur'an. There is a clarity during Ramadan that is not present during the rest of the year.
I have been teaching students about the Qur'an at SOAS for over 20 years. I would like to do so for the next 20 and more. I wish to dedicate my life, whatever is left of it, to the Qur'an, that is the only way I will feel that I have succeeded in myself and in my vow to my father."
We speak to four other individuals to understand their special relationship with the Qu'ran.
Share this


Link to this
Printer Friendly