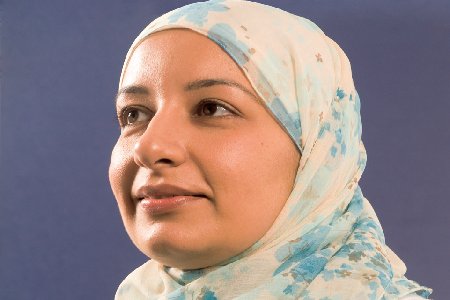 For those who reflect - Samia Ahmed
Issue 60 September 2009
Samia Ahmed is working towards completion of her Ijazza at a higher level.
She currently has permission to teach foundation level"My first profound experience of the Qur'an was actually in the English language. As a child, I used to avoid my home-tutored Qur'an lessons thinking – what is the point of reading something I won't understand? It was not until university that I first read the Qur'an in English.
It changed everything. I literally felt like I had been in a dark room and someone had switched on the light. I knew it was al-Haqq, the Truth. I learnt the Arabic alphabet from scratch when I was 22 and went on to do various tajweed (recitation) courses. In the past five years I have been blessed with the opportunity to be guided by Shaykh Haytham Tamim and also am honoured to learn from Shaykh Marwan Ghalayani who is 26th in the chain of reciters leading back to the Prophet, peace and blessings be upon him.
I teach tajweed every week to a class of students aged between 25 and 50. They learn the basic rules, and how to pronounce each letter correctly from the right articulation points. Sometimes we spend weeks perfecting one letter. But every struggle is rewarded, as the blessed Prophet said that whoever finds difficulty in reciting the Qur'an will receive a double reward. Tajweed is a science that you cannot learn from tapes and books alone.
You need a teacher. It is essential to get tajweed right for salah at the very least, as you are pronouncing the words of God. When you recite the Sacred Text with tajweed, it will penetrate your heart and you will taste the sweetness of the Qur'an. In Ramadan, the month of the Qur'an, you are blessed with the strength, alertness and focus to recite the Word of God. Tajweed can improve other areas of your life as it is a discipline. It is a tool both for the Qur'an and for life. Tajweed is my passion and it's a passion I wish to share with others and hope for the acceptance and pleasure of God."
We speak to four other individuals to understand their special relationship with the Qu'ran.


Share this


Link to this
Printer Friendly