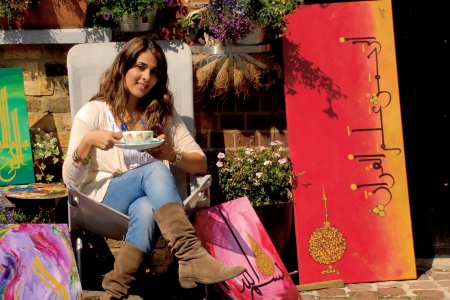 For those who reflect - Shazeaa Ingar
Issue 60 September 2009
Shazeaa Ingar is an Islamic calligraphy artist
It was my husband who inspired me to fuse my art and the beauty of the Qur'an together. He's a young qari and when I'd listen to him recite verses, the beauty of the Arabic language astounded me. I became convinced that incorporating the beauty of the written word with my passion for colour and painting would be ideal in communicating my love for the Qur'an and God.
Initially, I used to paint simply with colour, experimenting with different fusions and shades. Then I discovered calligraphy and realised how stunning the words looked: Islamic calligraphy is a work of art in itself. The fluidity of the letters is so powerful in conveying the meaning of the word. For example, one of my favourite paintings has the word al-Hub, which means 'Love'. The beauty of the word is staggeringly inspiring to me. And so for that particular piece I've used beautiful shades of purple and pink, illustrating my love for God. One of my earliest pieces was for a cousin of mine who had faced many challenges in her life.
I decided to paint a piece which depicted a journey and etched God's name throughout. My intention was to symbolise that no matter what part of life you're experiencing: the good, the bad, the trying, the wonderful – throughout this entire journey of life, God is always there. The colours became the emotion, and the presence of God was translated in the etchings of His name. Naturally, everyone has a different relationship with the Qur'an.
When I read a verse and it really touches me, I know I want to portray it to the world. That's where my art comes in. The Qur'an in its natural form of Arabic is meant for Muslims, but through art I feel I am able to channel the message of God to so many different people, no matter what their religion or race. Religion is a crucial part of my life. God has always my Guide. So in my artwork, no matter what I do, it's essential that God's mighty presence, through His Word, is in my art as He is in my life."
We speak to four other individuals to understand their special relationship with the Qu'ran.


Share this


Link to this
Printer Friendly