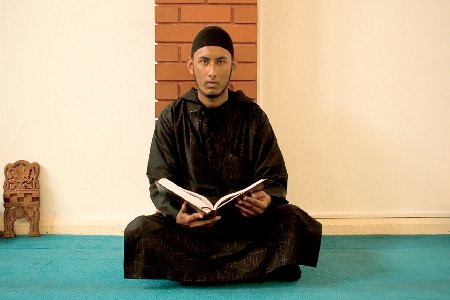 For those who reflect - Jahangir Ahmed Yahya
Issue 60 September 2009
Jahangir Ahmed Yahya is an 18 year old hafiz who started memorising the Qur'an as a child.
"My relationship with the Qur'an began at a very early stage of my life. My mother taught me the basics and my father spent a lot of money and effort on my learning at hifz madrasas. That's when I started to build an intimate relationship with the Qur'an. It was not until I went to secondary school that I really dedicated myself to memorising the Qur'an, which took me two and a half years.
There are many virtues of memorising the Qur'an, one of which is that on the Day of Judgement, the Book can actually intercede for the hafiz and his family and for those who were close to him in this life. He can take ten people into Paradise with him. The Qur'an will also insha-Allah be helping the one who used to recite it, in his or her grave and it will also act as a witness for the person who had an intimate relationship with it. My bond with the Qur'an increases even more in Ramadan as I try to build myself up spiritually and mentally, and I hope to make myself a stronger person with its sacred light. I try to recite the Qur'an and ponder upon its meanings.
From time to time, I have had the opportunity of leading a congregation of about 100 people in taraweh prayer. I try my best to act upon what I recite – the Qur'anic teachings about feeding the poor, giving charity, listening to my parents. As God almighty says 'Fast so that you may become pious'. One really special thing about the Qur'an is that it is God's direct speech and to know that actually increases and boosts my love for the Qur'an. From over 1400 years ago until now the words of God have remained intact with not a single letter changed.
The fact that the Qur'an was directly revealed to Prophet Muhammad, peace be upon him, and that he himself committed the whole Qur'an to memory and recited it to his Companions really encourages me to have a consistent relationship with the Qur'an."
We speak to four other individuals to understand their special relationship with the Qu'ran.
Share this


Link to this
Printer Friendly