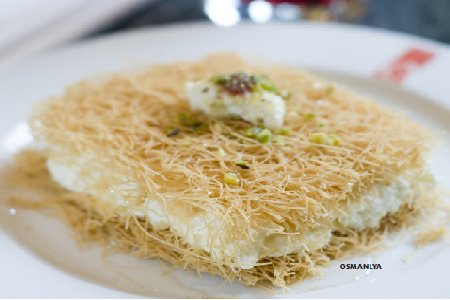 Osmanlya
Issue 60 September 2009
Ingredients

For the syrup
225g sugar
250ml water
½ tbsp lemon juice
½ tsp rose water
½ tsp orange blossom water
For the shell
228g thin kadaif pastry
114g unsalted butter
485g ricotta cheese, room temperature
finely chopped blanched pistachios and
rose petal jam to garnish.
Method
1. Bring water and sugar to the boil in a saucepan, stir often to dissolve. Boil for 10 minutes. Remove, add lemon juice, rose and orange blossom water and stir. Set aside.
2. Preheat oven to 200⁰C/Gas mark 6. Grease two 10 inch round cake pans.
3. Divide pastry into two equal parts. Pull threads apart and place in prepared pans. Press down with your palms to compact. Melt butter and pour evenly over both pans.
4. Bake in preheated oven until golden (about 20 minutes). Switch position of pans once during baking time.
5. Remove one part to large serving dish with spatula (not upside-down). Pour ½ cup of prepared syrup over entire surface evenly.
6. Reserve 6 tbsp cheese and spread rest of cheese evenly over your pastry. Top by inverting second pastry over cheese (you should have the top layer upside down). Pour ½ cup of syrup evenly over top pastry.
7. Place reserved 6 tbsp of cheese around the edge, top each with some pistachios and rose petal jam.
8. Serve remaining syrup on the side to suit individual tastes. Use a sharp knife and cut into squares or wedges. This can be reheated in a 190°C/Gas mark 5 oven, covered till warm.
More Recipes
Indulge in the sweetest tastes of the Middle East. These delicious treats are sure to put a smile on your face and are perfect for spoiling your guests on Eid.
Share this


Link to this
Printer Friendly