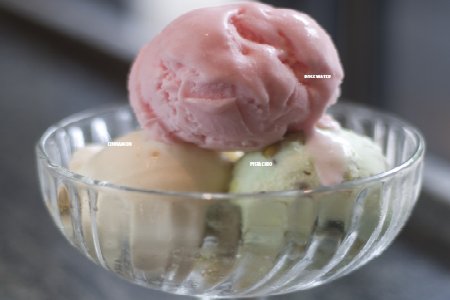 Rose Water, Pistachio and Cinnamon Ice cream
Issue 60 September 2009
Rose Water Ice Cream

Ingredients
3 tbsp rose water
275 ml whole milk
4 large egg yolks
110 g superfine sugar
284 ml double cream
Method
1. Heat the milk slowly in a pan to boiling point.
2. Meanwhile in a bowl, beat the egg yolks and sugar together until smooth and foamy; pour the heated milk over the egg mixture, beating all the time.
3. Return the mixture to the pan and cook over a low heat, stirring constantly with a wooden spoon until it thickens slightly to form a coating over the back of the spoon (do not let it boil).
4. Pour into a bowl, cool then stir in the cream and rosewater. Pour into a shallow plastic box and place in the freezer until completely frozen (after 2 hours of freezing, you may wish to remove the ice cream from the freezer and whisk it to remove any ice crystals that form at the edges – repeat this twice more during the freezing process).
Cinnamon Ice Cream
Ingredients
225ml milk
1 cinnamon stick
3 egg yolks
100g caster sugar
1 tsp ground cinnamon
450ml double cream
Method
1. Put the milk in a pan with the cinnamon stick and bring to the boil. In a bowl, whisk together the yolks, sugar and ground cinnamon. Discard the cinnamon stick, then strain the hot milk over the yolks, whisking continuously.
2. Pour the custard mix back into a pan and cook on a low heat for 8-10 mins, stirring constantly until thickened. Whisk the custard into the cream, then cool.
3. Pour the cooked custard into a bowl, and put into the freezer for about 1 hr and a half until it starts to freeze around the edges. Stir well, repeat process twice more until the mix is smooth. Freeze until needed in a suitable container.
Pistachio Ice Cream
Ingredients
125g unsalted pistachio nuts (without
shells)
75g caster sugar
3 free range egg yolks
500ml double cream

Method
1. Place half of the pistachios into a food processor with half of the sugar and blend until very fine.
2. Roughly chop the remaining pistachios with a sharp knife on a secure chopping board.
3. Whisk the egg yolks with the other half of the sugar in a large, heatproof mixing bowl, until thick and creamy.
4. Place the cream and the finely ground pistachio and sugar mixture into a heavybased pan over a medium heat and bring to the boil. Immediately remove from the heat and pour the mixture onto the egg yolks, whisking constantly. Return the pistachio custard to the pan and stir over a low heat until the mixture thickens.
5. Pass the mixture through a sieve and transfer into a freezer-safe container with a lid. Add hand-chopped pistachios to the surface. Cover and freeze until required.
More Recipes
Indulge in the sweetest tastes of the Middle East. These delicious treats are sure to put a smile on your face and are perfect for spoiling your guests on Eid.
Share this


Link to this
Printer Friendly