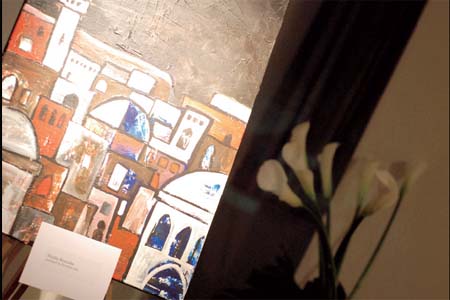 Emerald Network's 5th Anniversary
Issue 60 September 2009
Event
Emerald Network's 5th Anniversary Dali Universe, SouthBank, London
Review by Lutfur Amin Ali
The landmark Dali Universe on London's South Bank, under the backdrop of the London Eye, played host to the 'Emeraldgallery' marking the 5th anniversary of the UK's leading volunteer-run Muslim Social Networking enterprise, Emerald.
Emerald was formed in 2004 amongst a group of Muslim professionals with a view to hosting dinner-based events in enabling fellow Muslims to enhance their social network of friends and contacts for their own benefit. Promoted primarily through the power of 'word of mouth' it soon became more than the 'best kept secret' on the events-scene.
Rooful Ali, the founder, channelled his passion for the creative arts as the theme for the milestone event, working with Elevation Arts to showcase contemporary art by Muslim artists, in addition to using the evening to present an impressive collection of nearly 200 photographic works by Muslims from across the community, including the second Emerald Photography Competition shortlist of works. The evening was one of a celebratory vibe, full of colour in keeping with Emerald's ethos of 'United Colours', with an open door to all backgrounds, reflecting the beauty of the ummah. Mouth-watering canapés and juices were served throughout the evening. The Dali Universe's three spaces and corridor was transformed into a Muslim arts gallery. Alongside the resident's work, Azam, there was a stunning collection of wooden calligraphy works carved by Grant Birse and vibrant acrylic on canvas paintings by Bristol-based Wadia Boutaba, expressing her Moroccan roots.
There was a surprise in the evening's proceedings, with Rooful being awarded a plaque to celebrate the past five years by Islamic Relief. His speech mentioned the need for everyone to do their part and leave a footprint in this life so far as benefiting other people through voluntary activities alongside our daytime commitments.
Guests on Saturday's event hailed from a near A-Z of professional backgrounds, not to mention geographical locations, with Muslims travelling down from across the UK. The success stories include individuals making new friends and contacts for personal and business links, showcasing artwork, promoting performing arts like comedy, through charity supoort, various events have raised £300,000 being raised through events for causes ranging from Palestine, Sudan, Ethiopia, Burma, China, Bangladesh and Pakistan, alongside other projects such as orphans and Cancer research.
Having hosted and collaborated with a wide range of organisations, in excess of 70 events and with 7,000 Muslims having attended, Emerald certainly had success to celebrate
Share this


Link to this
Printer Friendly