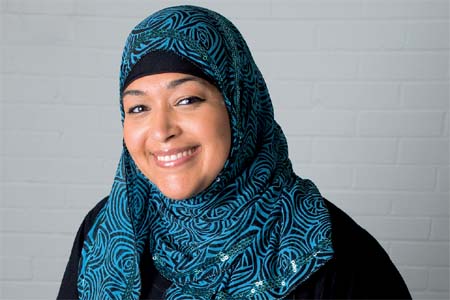 Sweet taste of success
Issue 60 September 2009
Sweet taste of success
Mona Munshi is a culinary artist creating gourmet cupcakes for the UK market. Myriam Francois-Cerrah meets the baking fairy dishing out much more than eggs and flour.
"I have paid for so many things with cupcakes. Forget the Euro, I trade in cupcakes!"
Three years ago, for her daughter's fifth birthday party, Mona Munshi decided to cut expenses by making a homemade birthday cake. It was to prove the beginning of a business journey into the sugary world of designer cake making, in the shape of the latest craze sweeping the US – cupcake fever. A former fashion designer, Mona has always had an artistic penchant. After having her two children, she dedcided to leave the industry, which she was finding increasingly hard to reconcile with her Islamic ethical outlook. However, she soon discovered that there was no keeping her artistic talent dormant: her natural inclination to colours, textures and flavours materialised in perfectly produced cupcakes, which were to make her the talk of her Ilford town.
Two weeks later, Mona produced pink sparkly cupcakes for her friend's daughter's birthday and then the orders began flooding in. This was the 'light-bulb' moment at which Mona realised she could turn a cooking hobby into a lucrative business enterprise. Mona's kitchen has been busy ever since. In fact, Mona tells me it is the close cooperation with her clients which is at the root of her success: "I like things to be well organised, as well as knowing exactly what they want in terms of flavour and look, I also like to know what the occasion is. That way, if you know it is for granddad's birthday, you can put some extra love and care into what you think that person would really like."
The love, care and attention investedin each cake is testimony to the culinary craftsmanship Mona invests into each cake, which stand out as statement pieces of art in their own right: "My cakes are gourmet, they are not '4 for a £1'. These are high quality, work intensive cakes. People who know about gourmet food recognise this quality, which is why I aim to start supplying gourmet food shops such as Harrods and Selfridges."
Following some research into the cupcake market, a lucrative market in the US where celebrities and their devotees have fuelled the rise of cupcake parties,cupcake baskets, and general cup cake mania, she realised that "Brits, like Americans, absolutely love the look of them." With the support of her business partner to give her company the boost it needed to move beyond amateur baking, Mona began printing her own leaflets, using a logo she had developed herself. The orders just kept amassing, forcing her to employ a professional cooking oven to produce the sufficient number of sponge cakes she required. She discovered early on that the cupcakes didn't just appeal to her customers, but often also appealed to those she called upon for services, and this proved a useful way of cutting costs. "I havepaid for so many things with cupcakes – my website was designed for the cost of a batch of cupcakes; I got my car fixed for a box; my t-shirts were printed for free, he only asked for a box of cakes. They've become a new form of currency. Forget the Euro, I trade in cupcakes!"
So what is the huge appeal I ask,somewhat mesmerised by a double chocolate fudge cupcake which appears to have my name on it. "People can have 12 flavours for a birthday party, rather than only one. That way, there is always a flavour everyone will like and it is also a good way of giving any celebration a bit of pizzazz. They have the taste benefits of a usual cake,but also the added bonus of being amazing as a decorative feature too – that's why I think people love them."
Mona started out using only organic ingredients and continues to produce an organic range which includes novelty cupcakes, muffins, brownies and other cakes. As of now, many of the glitters and colourings she needs are not yet available on the organic market. As this market develops, Mona hopes to return to her preference for using purely organic ingredients, in line with her commitment to overall high quality. "These are not factory processed cakes you can buy in any chain store, they are handmade. The icing is made from scratch, and I only use quality ingredients. Some flavours you have to make by hand, to get the right consistency and taste. You have to experiment before you produce the client's request and it can be a lengthy process. Many of the shapes and decorations I use I make myself. In fact, I have a tool kit at home, with brushes, glitters and nozzles."
Mona has developed an extensive menu list and price list with funky flavours which include Ferraro, Tiramisu, and Peaches and Cream. Her cupcakes range from the ornate to the simple, the three tiered to the plain, the wacky to the old classics. "As orders com in, I just keep adding,so I've probably got 80 flavours now and I keep developing new ones. There are always people who want different flavours, peanut butter, apple pie, bubblegum, and it is my objective to keep customers happy by developing exactly what they want, something you can't get anywhere else." So what role has her faith played in her business inspiration and success? "Being Muslim, I work with integrity and honesty. No matter how much success I get, I give sadaqa (charity) every week. I go to sleep knowing I have earned my money through halal means -– when you know it is all your own hard earned cash, it is very satisfying.God gave me the skill to do this, as well as the health and means to achieve my dreams. I lived in Egypt for three years and my teacher there told me God gave me a skill and that it is a responsibility to use that and see it as a blessing, not waste it. I feel, all praise to God, that I do this through my current work."
So what are her ambitions for the future, I ask between orders which keep coming in on her phone. "We hope to become the Krispy Kreme of the cupcake world," she says with an air of determinedness whilst marking out her order meticulously in her diary. At this rate, it seems Kup Kake could be instigating a butter-cream revolution– let the frosting begin.
Share this


Link to this
Printer Friendly