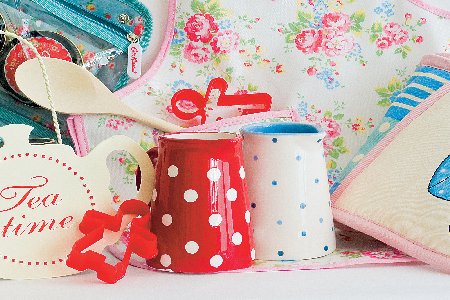 Past Presents
Issue 60 September 2009
This Eid treat your family and friends to interior presents with a vintage twist. Whether they are for the enthusiastic traveller, the chintz-loving cook or the romantic classicist, Mariam Mahir comes bearing gifts promising to add neo-nostalgia to the home.
Crafty Craze

Dotty about patterns?
Mis-match floral and polka dot gifts are ideal for creative individuals, transforming
their home into a fun fusion of kitsch classics.
Shoe Polish Set £14 Cath Kidston,
Baking Set (apron, rolling pin, gingerbread cutters, wooden
spoon) £14 Cath Kidston,
Tea Time Sgn £5.87 Laura Ashley,
Blue and White Jug £6.85 Laura Ashley,
Red and White Jug £7.83 Laura Ashley,
Oven Gloves £10.80 House of Fraser.
Vintage Voyage

Travel back in time with iconic pieces from a bygone era. Lemon and lime hues liven up pastime pieces. Great gifts for adventure-loving globe trotters.
Soap Dispenser £12 Debenhams,
Jar £10 Debenhams,
Towels £2 each Debenhams,
Mug £9.95 John Lewis,
Clock £12 Debenhams,
Flask £14.50 John Lewis.
Romancing the Stone
Pamper your loved ones with antique-inspired interiors. Stone-coloured accessories intertwined with hints of burgundy petals create an air of classical romanticism.
Fruit Bowl £16.95 Selfridges,
Pot Pourri £5 Debenhams,
Frame £6.95 Selfridges,
Tea Light Holders (set of four) £18.95 Selfridges,
Glasses £3.95 Selfridges,
Red Flower Heart £10.95 Victoria Jill,
Coat Hangers (set of three) Victoria Jill.
Share this


Link to this
Printer Friendly