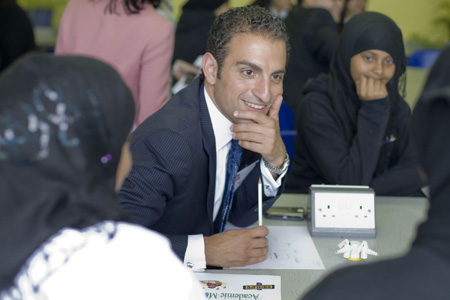 Mentoring the Mosaic Way
Issue 50 November 2008
What do a private equity partner, a jewellery designer, a rugby player and a lawyer have in common? Well, it might seem to be the intro to some sort of elaborate joke, but actually the answer lies in Mosaic, a volunteering initiative that celebrates its first anniversary this month. Such individuals are some of the successful Muslim volunteers who have answered a call from Mosaic's founder, His Royal Highness The Prince of Wales, to support his latest initiative. Speaking in November 2007 about Mosaic, he said he believed "that Mosaic has the potential to be an important and exciting vehicle for breaking down barriers of mistrust and suspicion and for promoting the enormously positive contribution that Muslims make to our society."
John O'Brien, Mosaic's Managing director, is in no doubt that the Prince's words resonate with an ever widening network of Muslims from all walks of life. They have recognised how their own experiences can be used to good effect to encourage others who are growing up in challenging circumstances. John's challenge has been to take an outline idea, a few unconnected individuals and develop Mosaic into the means through which volunteers can confidently engage in schools and community groups.
Looking back over the year, he is in no doubt that the rapid expansion from London into Bradford, Leicester, Burnley and soon to be Birmingham reflects a real desire of individuals to make a difference personally. He happily admits to his own expectations of growth being exceeded and recognises that the challenge now is to develop sustainable funding and other support to maintain Mosaic's obvious momentum. He also makes plain that in most cases those who are active and driving the networks are partially motivated by a desire to both network with like-minded individuals and are not interested in the somewhat political nature of some issues surrounding the community.
The unique quality Mosiac seems to bring is a neutral space where people can concentrate on positive contributions to addressing key social issues. Although some agitation has occasionally arisen from individuals apparently keen to concentrate on the negative, or bolster their own egos and reputations, Mosaic has over the last few months become more confident in rebuffing such distractions. It is clear from talking to volunteers that they will not be diverted from their main objectives of being a positive influence.
Rather like a mosaic itself, the quality in Mosaic is that the whole is more than the sum of the parts, which now represent a multiple set of UK volunteering initiatives and an exciting international programme for young leaders covering over a dozen Muslim countries.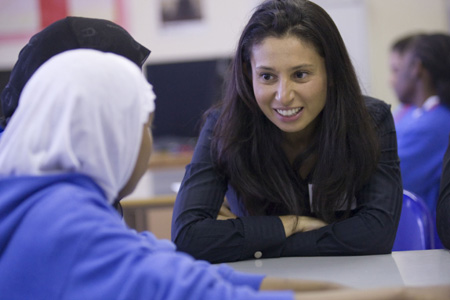 A significant change over the year is that although Mosaic remains primarily concerned with supporting areas with a high proportion of young Muslims, it has embraced the need to promote greater tolerance and understanding by supporting young people of all faith backgrounds in the same areas. This inclusive approach has in no way diminished the impact of Mosiac and appears in many ways to make volunteers more confident of putting their time behind the initiative and funders more likely to support it.
Speaking with active Mosaic supporters leaves one in little doubt about how they see the value of Mosiac and their own contributions. A collective cry to "get more people to do more" seems to be the mantra of the day and speaking with beneficiaries seems to be equally persuasive. Khawar Mann, Mosiac mentor and a partner at Apax private equity says "Mosaic has the potential to transform the lives of young people by unlocking the talent they undoubtedly have." What is more telling perhaps is that having worked with Khawar, Wendy Wayland, Assistant Principal at John Kelly Boys' Technology College, Brent says quite simply that she has "never before seen students so captivated...Quite simply, it is the best mentoring programme we have ever been involved in."
Given the numbers of such programmes we hear about, one wonders why Mosaic should stand out as so powerful – perhaps the answer lies simply in the nature of those undertaking the mentoring. When meeting them, it is clear that they are personally motivated to be there, rather than having simply been told to participate. Many see themselves in the children they engage with.
Asad Ahmad of the BBC makes this very clear: "I get the satisfaction of knowing that I can help someone achieve the best they can. To help someone who was in the situation I was in 20 years ago is very rewarding."
Mosaic has moved very rapidly in its first year. It clearly has an enthusiastic, driven collection of individuals behind it and is breaking down real barriers between those who have made a success and those who may be daunted by their surroundings.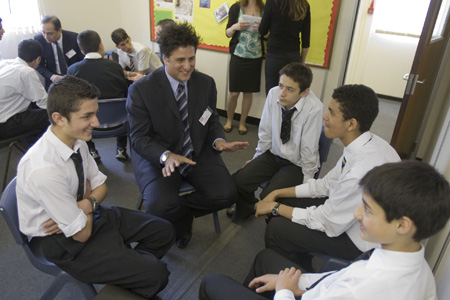 Mosiac has no shortage of ambition, but in this economic climate has to increase support from those who may be time-poor and cash-rich, to fund the brokerage and mentoring activity across the UK. As with any start-up, business, charity or other, the first year or so is critical to long term success and will be dependent on maintaining the enthusiasm it has ignited and accessing more support.
Under The Prince's leadership, with its inherent independence from political objectives or personal gain, Mosaic seems well positioned to strengthen its resolve in addressing the concerns facing not only the Muslim communities but equally importantly their non-Muslim neighbours. It will be best able to do this by maintaining its unique reflection of His Royal Highnesses concerns which are so apparent in its work.
Somewhat tellingly, Baroness Kishwer Falconer, one of many Mosaic supporters in both Houses of Parliament asked publicly at its inception why a Mosaic type initiative had not been developed earlier. She also answered the question by admitting that it takes someone with the independent leadership of The Prince of Wales to convene such a body. Mosaic clearly is here to stay and is looking for support to assist its work. If you wish to become a part of Mosaic more information can be found at www.mosaicnetwork.co.uk
Share this


Link to this
Printer Friendly