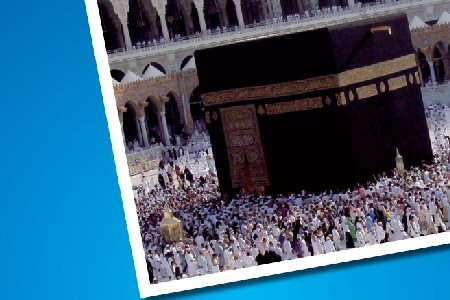 Pilgrims Passage
Issue 61 October 2009
With millions of pilgrims preparing to gather at the holy sites of Makkah and Medina, you may be inspired to book your own pilgrimage. Somaiya Khan-Piachaud offers advice on how to pick a package deal that's right for you.
As Dhul-Hijjah approaches, our hearts and minds turn to the millions making their way towards Makkah for the Hajj period. Hajj is the journey of a lifetime, and one which every Muslim hopes to make. Those fortunate enough to go are considered to be guests of God, yet it is not unknown for travel agents to exploit the system in order to make more money for themselves – at the expense of pilgrims' comfort. With so many attractive offers out there, it's easy to be confused. Many Hajj groups may try to sell you a discounted package basing your stay in Azizziyah, a suburb located adjacent to the boundary of Mina, a few miles from the Ka'bah.
When picking your travel package be aware that journeying to the Ka'bah for the five daily prayers is very difficult from Azizziyah: although three or four miles doesn't seem much, when factoring in the crowds of millions in Makkah it can easily take a few hours, one way. Travel agents justify the extended stay in Azizziyah by claiming it is a "preparing" ground before going to Mina. However, seasoned Hajjis know that preparation can just as easily be done in a hotel nearer the Ka'bah. Look for packages that give you access to an Azizziyah apartment or villa during the days of Tashreeq (the three days following Eid al-Adha; 11th-13th of Dhul-Hijjah).
Most scholars allow people to leave Mina during the day as long as you return by night. Having an Azizziyah apartment or villa allows you to rest and use facilities that may be better than those provided in Mina. Think carefully about your itinerary as travel agents sometimes take advantage of pilgrims by manipulating the schedule of the pilgrimage. Some Hajj packages begin in Makkah early (before the month of Dhul-Hijjah, during which the hotels charge Umrah rates).
You would then be taken to Medinah, staying until only a day or two before Hajj, at which point you journey back to Makkah again to actually perform the Hajj. This sort of package entails travelling to Makkah twice, and due to all the numerous passport checks and traffic each journey can take anything from 10 to 24 hours
CHECKLIST
Planning in advance is the key to finding the right package. This will enable you to thoroughly research into what is available. Make sure that you book your tickets through an ATOL (Air Travel Organiser's License) registered tour operator to avoid unnecessary diffi culties, and don't be afraid to ask your travel agent questions. There are many important factors to consider before making your decision. Here are a few points to raise when booking your package.
Company
How long has the company been in business as a Hajj/Umrah Group under the current name? Many groups will change their names often to hide a bad reputation. In the UK, verify the company's ATOL, this protects you from losing your money or being stranded abroad.
Flights

Find out about the airline options. Are there any direct fl ights available? The elderly sometimes can't cope with fl ights that require connections and fl ying direct might be more convenient and comfortable. Flights to Medinah are the most convenient option as you'll clear the airport relatively quickly.
Visa
In order to perform Umrah or Hajj the corresponding visa is required from the Royal Embassy of Saudi Arabia, who will only allocate visas through a Saudi Authorised Agent. Every group that takes people to Hajj/Umrah is not authorised, so if you decide to go use a reseller, it is always wise to ask from whom they get their Hajj/Umrah visas.
Guide

Will there always be a guide with the group? If so, what language(s) does the guide speak?
Accommodation

Where is the lodging in Makkah and Medinah? How far are the hotels from the holy sites? Is it a hotel or an apartment? Find out the duration of the stay in each place. How many people will they put in one room? What is the size of the room? Check the arrangements for Mina and Arafat.
Food

What kind of food arrangement does the package have? How far are the restaurants from where you are staying? Will there be any food for you in Mina and Arafat?
Transport

Will the agency provide any transportation during the Hajj? For example, going from Mina to Arafat, Arafat to Muzdalifah, and from Muzdalifah back to Mina. What kind of transportation does the package have for travelling between Makkah and Medinah? Will you be taken directly to the airport after you perform the Hajj? Or will they put you in a hotel or apartment before fl ying you back home?
Costs

How much does the package cost? Does it cover the visa processing fee? If possible, ask the travel agent for testimonials. Always talk to a couple of travel agents and compare their deals. Be sure to know what their refund policy is. Ask the amount of time it takes to get a refund, if a need arises. It is important to document everything you are told in writing. Request travel agents to email/fax/mail you all the relevant information.
In Summary

Remember to have realistic expectations from the Hajj package you choose. The best way to synchronise your expectations with your Hajj package is to pose all the right questions to the travel agent before you book, and document all the details, so that your travels can be seamless and you can spend your pilgrimage in contemplation and worship.
IMPORTANT NOTE

This year Hajj pilgrims are required to obtain seasonal flu jabs two weeks prior to travelling to the Hajj and will be required produce a valid vaccination certificate
Visit www.fco.gov.uk/hajj to download a leaflet on Advice to British Hajjis.
Share this


Link to this
Printer Friendly