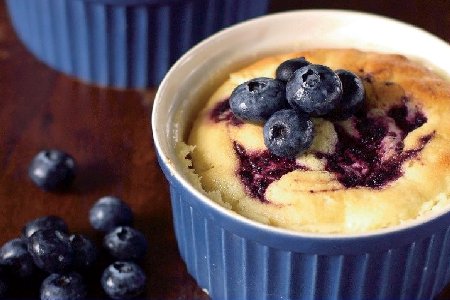 Blueberry and lemon pudding
Issue 61 October 2009
Blueberry and lemon pudding

Serves 4-6
This light and tangy dessert is the perfect companion for a night in.

Ingredients
60g brown sugar (for the fruit)
125g sugar (for the batter)
60 ml water
zest and juice of 1 lemon
1 tsp cornflour
250g blueberries
250g self-raising flour
1 3/4 tsp baking powder
1 tsp salt
1 large egg
118ml whole milk
125g unsalted butter, melted and cooled slightly
1 tsp vanilla
Method
Preheat the oven to 190ºC / Gas Mark 4 and butter 6 ramekins. Stir the sugar with the lemon juice, lemon zest, water and cornstarch in a saucepan. Stir in the blueberries, then bring to a simmer. Simmer for 3 minutes, stirring occasionally, then remove the blueberries from the heat. In a bowl, whisk together the flour, remaining sugar, baking powder, and salt. In a separate bowl, whisk together the egg, milk, melted butter, and vanilla. Add the flour mixture and mix until just combined. Spoon the batter into the prepared ramekins, dividing evenly. Pour the blueberry mixture over the batter in each ramekin, again, dividing evenly. The blueberries will sink down a bit. Bake for about 25 minutes, until a skewer inserted into the middle of one of the cakes comes out clean. Remove and cool on a rack. Serve at room temperature, or chilled.
Read the rest of the recipes in our Comforting Desserts feature
Share this


Link to this
Printer Friendly