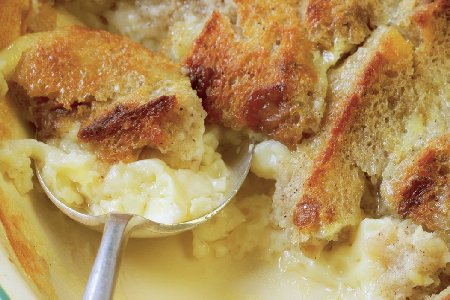 Bread and Butter Pudding
Issue 61 October 2009
Bread and butter pudding

An old English classic which uses aromatic ingredients, impossible to resist on a rainy day.

Ingredients
7 Slices of bread (white or brown)
700ml milk
3 eggs
110g sugar
110g raisins and sultanas
1 tsp vanilla
1/2 tsp cinnamon
1/2 tsp salt
1 packet of butter
Method
1. Preheat the oven to 170ºC/Gas Mark 3.
2. Get a large oven proof baking dish and rub the inside of the dish with
butter, ensure you cover the corners.
3. Butter one side of the bread slices.
4. Line bottom and sides of the dish with the buttered bread, cover as much of the bowl as possible. Set 3 slices aside.
5. In a bowl, combine the milk, sugar, eggs, raisins, sultanas, cinnamon, vanilla and salt – mix well. Pour the mixture over the bread.
6. Place the remaining pieces of buttered bread on top, try to submerge these by pressing on them.
7. Allow the bread and butter pudding to stand for around 30 minutes.
8. Cover the bread and butter pudding (with foil) and then place in the oven and bake for up to 30 minutes.
9. Remove the foil and bake for another 30 minutes until golden.
Read the rest of the recipes in our Comforting Desserts feature:
Share this


Link to this
Printer Friendly