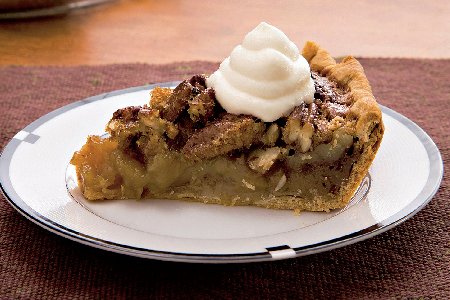 Pecan Pie
Issue 61 October 2009
Pecan Pie

A rich American classic, usually served with vanilla ice-cream, but custard tastes just as good.
Ingredients
For the sweet pastry:
225g plain flour
110g caster sugar
110g butter
4 egg yolks
For the pecan filling:
3 eggs
110g sugar
4 tbsp golden syrup
50g butter, melted
a pinch of salt
a few drops vanilla extract
175g pecan halves
Method
The key to a great pecan pie is to first roast the pecans over a low flame in a pan.
1.Put all the sweet pastry ingredients into a food processor and whizz until you get a dough.
2. Remove and place in a plastic bag and put into the fridge to relax for 1 hour.
3. Preheat the oven to 200ºC /Gas Mark
4. Line a 9inch pie tin with the pastry.
5. Break the eggs in a large mixing bowl and beat well and then beat in the sugar. Add the remaining ingredients and mix well.
6. Pour the mixture into the pastry case and bake for 10 minutes and then reduce the oven heat to 180ºC/Gas Mark 4 and bake for another 30 minutes or until the top of the pie is golden. Check if it is cooked through by inserting a skewer;it's done if it comes out clean.
7. Turn out of the tin when slightly cooled and serve warm or cold with vanilla ice cream or a spoonful of crème fraiche.
Read the other recipes in our Comforting Desserts feature:
Share this


Link to this
Printer Friendly