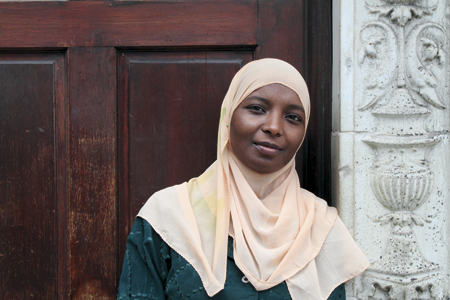 Hunaida Osman
Issue 61 October 2009
I grab my children by the hand and rush out the front door to the bus stop. On the journey, I consider how nice it would be to plan my day without flinching at the sound of every mobile that goes off worried it's my own. I drop the kids off to school and head back home, rushing off the bus as it pulls up outside my house to grab another. Such is the hectic travelling schedule of a Family Action 'befriender'.
I first started volunteering with Family Action in 2006. I was born in Libya and moved to the UK in 1988. I had suffered from postnatal depression after my second child was born and was referred to 'Sure Start', an organisation, which assists children and families with the problems they're encountering. The staff at 'Sure Start' suggested volunteering as a route back into employment, when I said I felt useless since leaving work to take care of my family fulltime. They put me in touch with Family Action, a charity that provides services to disadvantaged and socially isolated families. They tackle issues such as domestic abuse, mental health problems, learning disabilities and severe financial hardship. After my training with them, I became a 'befriender', supporting mothers and expectant mothers who are at a risk of or experience postnatal depression.
And that is how I ended up here, standing at the entrance to a block of flats where my client lives. I glance at my arch nemesis, the building lift, which refuses to come down despite my thumb-numbing assault on the 'call' button. I retreat disappointed and begin to climb up the fire escape.
I enter the flat out of breath and a little disheveled. I've been assigned to a woman who arrived from Eritrea with a young son. She has significant problems accessing any public services as she can only speak Arabic. On the agenda for today is opening a bank account, paying gas and electricity bills, enrolling her son in nursery and visiting the job centre, before heading back to pick my own children up from school and then heading home to cook dinner.
At the bank, I explain that I'll be interpreting. The customer services representative, after sifting through some papers, informs us that we have forgotten some important documents and thus cannot open an account today. I brace myself for my client's usual reaction, and sure enough, she begins shouting abuse in Arabic. After I apologise, we leave the bank and I sit her down. "You have to stop this! That man was trying to help. You can't hurl abuse this way; we're here to support you, not make things difficult for you." In this instance, I resort back to my training and realise how hard it is to sustain a professional working relationship when you are so intrinsically involved in the details of someone's life.
As I continue to work through our list of errands, I gradually become aware of how significant my presence is in her life. The role of a befriender is a sensitive one; you must be compassionate but strong enough to keep a professional distance. I recall how manically she used to call me before; day or night, demanding help with everything. But as time passed and I managed to set up some boundaries, she regained confidence in herself and has become more independent. I myself have found a sense of self through this project. Being able to instill faith in somebody and encouraging them to be motivated and active in seeking a better life is a great responsibility but an entirely rewarding one.
After the day's errands I collapse on the sofa after dinner. Then, I hear my phone ringing; pulling me violently out of my slumber. I have no desire to pick up but after a few rings, I give in. "Yes?" I answer quite obviously frustrated, wondering what she needs now.
"I just called to tell you that because of you, I can sleep better now. Before I met you, I couldn't put my head down without thinking. You've made my life so much easier. Thank you." Suppressing my guilt, I tell her it is my pleasure and settle down, feeling appreciated and worthwhile – ready for what the next day will bring.
Photo by Robi Chowdhury
Share this


Link to this
Printer Friendly