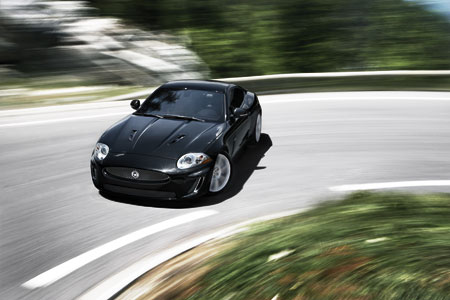 Drive and Prejudice - The Jaguar 2010 XKR
Issue 61 October 2009
Fazeel Ashraf's prejudice against Jaguar is short lived as he gets better acquainted with the impressive 2010 XKR.
I recently returned from a trip to the wonderful 'sunshine state' of Florida. I'm not going to bore you with minor details of what it was like to wake up, fling open your window and feel the warm breeze touch your face, as you look beyond the palm trees and into the crystal clear Atlantic Ocean. That would be facetious.
As it was my first trip to the US, I wasn't sure what to expect, but the following mantra holds truer in Florida than anywhere – the bigger certainly does seem to be the better. From the massive buildings that loom over you to the outrageously gigantic dinner plates, I started to understand why the local 'small-sized' Mens Designer T Shirts felt like a parachute that could float me safely down from one of those high risers. Unfortunately when I landed back to reality in the UK, I contracted a small case of the 'holiday blues'. Looking out of my closed window with not a patch of blue English sky to be seen doesn't really help matters. One thing that did make me happier about coming back home was that I would get to drive some European cars. While the US 'automobiles' make our European rivals look like micro machines, fortunately Jaguar were kind enough to line up something to rise to the challenge.
I have to be honest here by admitting that Jaguar has never really done much for me in the past. I appreciate the fact our Prime Minister drives around in one and that as 'luxo-barges' go they are great, but what has put me off the car is the fact that the majority of owners seem to have a lifetime supply of 'Just for Men' hair colour and let their maids iron a crease into the front of their jeans. On paper, the 2010 Jaguar XKR's spec sheet came across as fantastic, but would the actual driving experience be something to write home about? I soon realised that the Jaguar XKR is more than just a bunch of numbers on paper.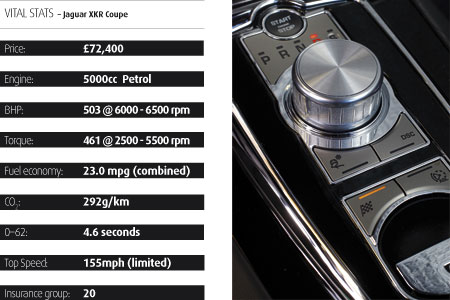 Looks are entirely a personal choice, yet my time with the Jag led me to conclude that not a single person would claim the XKR was anything other than stunning. It's long and imposing, yet retains teardrop curves which wouldn't look out of place in an art gallery. The 20 inch alloys and quad tailpipes just below the discreetly placed 'R' badge give away the fact this is more than just a standard XK.
On initial acquaintance, it's difficult to know what to expect and it's hard not to be cynical with something appearing to be on the realms of supercar territory. Yet the XKR deserves respect, as it's a far more serious instrument than prejudice would allow you to believe. Available in either coupe or convertible form, it has all the toys and gizmos one would want, including four seats and a good sized boot. Oh, and a 5.0-litre, 503bhp supercharged V8. The Jaguar is ferociously powerful, surprisingly sublime and so unreservedly individual.
One aspect of the XKR that will never diminish no matter how familiar you become with the car is the engine, and its insane ability to fire the coupe towards the horizon like a jet fuelled artillery shell. It truly is a magnificent motor, made all the more vibrant by Jaguar's excellent six speed keenly spaced gearbox, whether you use full automatic mode, or the wheel mounted paddle shifts. Sixty miles per hour is reached in four point six seconds taking you all the way up to the limited 150 miles per hour without a single hint of hesitation. It's difficult to overstate how phenomenal the XKR sounds once you plant your foot down – you find yourself opening your windows just a smidgen to allow the symphony of the V8 filter in and wash over you as the resonating bellow of the exhausts engulfs you.
There are not many opportunities to sample the full potential of the XKR on our British roads, but on the odd, rare occasion where you can unleash the beast within, it takes only a blink of an eyelid to find yourself launching across the landscape. Such humongous grunt is terrifyingly addictive. In traffic I find myself waiting to leave a space between me and the car ahead, just so I can pound my foot down into the carpet for a brief moment.
I have been singing on about how great the performance of the XKR is and I don't want you to go away thinking this is a one trick 'cat'. Close your eyes, run your hands over the hand-stitched steering wheel, adjust your seat in pretty much any way humanly possible and relax into a world that can deliver thousands of miles of luxury and comfort. From the suede headlining, to the round chrome gear selector that blissfully rises out of the console, I find it very hard to find fault. The dash is impeccably laid out and other manufacturers should take note of what Jaguar have achieved here. With items such as keyless entry and ventilated front seats that both heat and cool as standard, you won't to run out of ink filling the option list. If I was to be really picky, then the small amount of black plastic trim surrounding the touch screen display unit looked something more likely to be found in a Ford Mondeo rather than a circa £70,000 car. Earlier I mentioned the XKR has four seats and technically that would be correct in the same way that Andy Murray had a good chance of winning Wimbledon this year. In reality you have two seats for the front passengers, and in the rear only enough space for an apple and a packet of crisps.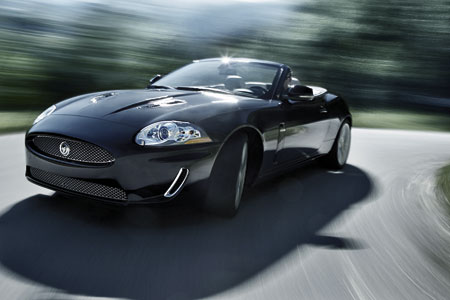 The XKR has an ability to absorb and parry bumps while shrugging off cambers effortlessly, as the 'Adaptive Dynamics' monitors the wheel positions an astonishing 500 times a second. Even selecting the 'Dynamic mode', which increases the responsiveness of the car, doesn't become intrusive or uncomfortably stiff but, if at all possible, makes an already accomplished ride even more exact. Drive it like you've just stolen the Koh-i-Noor or drive it with the thought you have royalty sat next to you (the back seat simply wouldn't do), and it won't fail to leave you exultant. Even the fact that you will rarely achieve more than 20 miles to the gallon won't put you off considering you are virtually sitting in a rocket ship.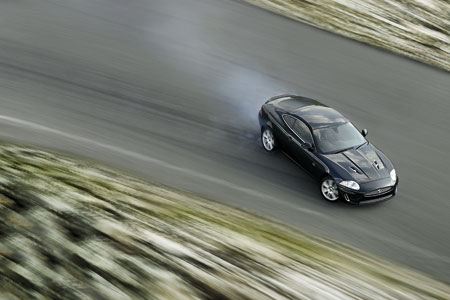 What the Jaguar gives you over its rivals is impeccable taste, breeding and class. Yes, it's true that Jaguar is now owned by Tata, but it still feels 100 per cent quintessentially British, testament to the fact the XKR is rewarded with a lion's share of attention. It's not just 'petrol heads' who appreciate the staggering poise of the Jaguar – men, women and children of all ages want to come and talk to you. Other drivers seem to go out of their way to let you in at junctions and are even willing to give up parking spaces. Show me a BMW or Mercedes which offers you the same treatment and I will happily show you my singing fish.
Feeling all blue again as the keys to the XKR were taken from my cold clenched fist, it was an emotional sight watching the Jag purr off into the distance. So if anyone feels they want to do something charitable by cheering me up, please feel free to send me a cheque for £72,400.
Share this


Link to this
Printer Friendly