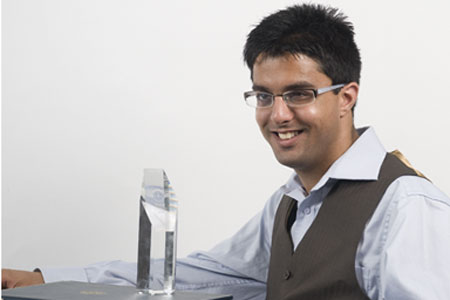 Watch this Face
Issue 61 October 2009
Winning comes naturally to 25 year old Junaid Mubeen from Coventry. After coming top of his year in Mathematics at the University of Oxford, he is undertaking a PhD, as well as undergraduate teaching duties. Not content with taking on the cream of Oxford, he then tackled the ultimate game show challenge, Channel 4's Countdown, and after an 11 game winning streak he won to become the Series 59 champion.
Somewhat of a game-show regular, he has also previously appeared on Channel 5's Brainteaser and BBC2's The Weakest Link. Junaid has no plans to rest on his laurels. In October he will be running the EDF Energy Birmingham half-marathon, to raise much-needed money for Swat Valley refugees.
This is despite only picking up the sport earlier on in the year in-between his studies and game-show appearances. He has already set his sights on completing a full marathon for further charitable causes, and has set a blog charting his progress which you can follow on www.justgiving.com/runnerbeen. Clearly Junaid is more than the sum of his parts.

portrait Steven Lawson
words Mohamed Madi
Share this


Link to this
Printer Friendly