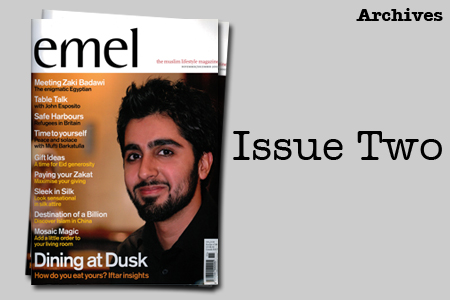 Highlights of Issue 2
Issue 61 October 2009
Riding on the waves of a sold-out issue 1, we launched our second issue of emel. It may have been over 5 years ago but the features are as relevant today as they were years ago. Everything from finding out more about the benefits of black seed oil to why Asylum is a burning issue for Britain and the latest authentic recipes.
Please enjoy our features from Issue 2 - we certainly still do.
A New Expression>
Welcome to the second issue of emel. Issue one has been so well received, yet we have been asked where we fit in? What is emel's identity? Which shelf should it go on in the newsagents? It is hard to confine yourself to a narrow identity, especially when the community we are commenting on is in the midst of creating a fresh identity and culture.
Ramadan Lives>
Ramadan touches the lives of hundreds of millions of Muslims around the globe, uniting all races and backgrounds. Remona Aly asks a family, a city worker and a student for their perspectives on Ramadan.
Ramadan in the Classroom>
Having left school some fourteen years ago, Saiqa Aslam finds out whether fundamental aspects of Ramadan can be played out in the classroom.
My Favourite Qur'an Translation>
emel discovers the delights of reading Qur'anic translations and the way they can profoundly affect an individual's personal experience of Islam.
The Seed of Blessing: The Black Seed>
"hold onto the use of the black seed for in it is healing for all illnesses except death." Sahih Bukhari
Over consumption>
As you are reading this, how many lights do you have on? There are so many actions which we do
automatically without thinking, but the repercussions can be huge when multiplied by the six
billion people who inhabit our planet.
Zakat- How to maximise your giving>
The Prophet Muhammed said: 'Pay zakat out of your property, for truly it is a purifier which purifies you, and be kind to your relatives, and acknowledge the rights of the poor, neighbours, and beggars'.
Diary of a young mother>
The younger child, who is just coming up to her second birthday, is going through a phase known as the terrible twos.
Face to Faith- Anwar Featherstone>
Why would a young Christian man decide to embrace Islam? Anwar Featherstone talks to Faaria Ahmad
about how his belief in Jesus led him to become a Muslim.
On the Wards>
Since emerging as a profession in the late 19th century, nursing has has come a long way and has proven an attractive career option for many Muslims. Shaheen Kasmani decides to find out more about the caring profession.
Dr Zaki Badawi>
The unofficial Mufti of Britain has long been an irrepressible opponent of the extreme, fatwa-happy sections of the community. Now, with the aftermath of the second Gulf War and the controversy raked up by the Hutton inquiry, Zaki Badawi's voice of reason matters more than ever.
Good Morning Ramadan!>
First initiated in the Leeds/Bradford area in 1995-6, Radio Ramadan was brought to Birmingham and Glasgow the following year, and by 2002 the Radio Authority was licensing 26 'short term restricted licences' for Ramadan.
Safe Harbours>
Asylum is a burning issue within UK society. Whether in the screaming sensationalism of the media, or the myths and misconceptions peddled by politicians, the asylum debate remains impassioned.
The Flowering of the Desert>
From an original and eye catching finish, brighten up your home using Islamic mosaics.
Quit tobacco for Ramadan>
Dr Khalid Anees lays bare the consequences of tobacco use, and provides practical advice on how to give up for good.
Table Talk with John Esposito>
John Esposito sees himself as a civilisational bridge builder. He has for the last 35 years been a student, researcher, and now professor of Islamic studies. He talks to Dilwar Hussain about his deep-seated affinity with the world's most talked about religion.
Muslim Marriage- Imad & Sonwara>
We used to work for the same company, Sonwara was in the London office and I was in the Harwell office and we had a paintballing competition between the two. That was where we first met. I remember seeing this short dumpy loud girl wearing a ridiculous paintballing outfit, shooting at me!
Iftar ideas>
Lamb Biryani, Hareira soup and Sweet Vermicelli. The perfect Iftar meal.
Destination China>
Yasmine Chaudhry explores the little-known Islamic heritage and discovers the fascinating depth of Muslim China.
Seek in Silk>
The wonderful world of Silk. Silk has always been regarded as the most luxurious of textile fibres.
A week in the life of... Iman Achara>
Iman Achara, in conversation here with emel reporter Anfal Saqib, is married with two children. She is chair of the Genuine Empowerment of Mothers in Society (GEMS) a London based registered charity.
Go Digital>
Remember only a few years ago, when APS compact cameras were all the rage – you know, the wide,
panoramic photo sizes and automatic indexing and dating? Who talks about them now?
Kith & Kin>
Our migration from Pakistan was for purely economic reasons and our plan was to stay in Scotland for a maximum of 3 years and then return to Pakistan with enough money to settle down and perhaps build a nice bungalow. It didn't quiet work out that way as I'm still here 36 years later.
Reviews>
Set across two continents and spanning 35 years, Brick Lane is an ambitious, adventurous, utterly captivating first novel by Monica Ali, named one of Granta's Best of Young British Novelists 2003.
The School of Hard Knocks>
By virtue of the fact that he is five years old, Habib insisted that he could punch harder than me. No sooner had his fist finished pounding away at my palm had I almost started to believe him.
Totally Tulips>
Understandably, the prominence of tulips within Islamic culture may seem strange to us at first. The cultivation and image of the tulip has become inextricably linked with a stereotypical picture-postcard Holland of dykes, clogs and windmills.
Inspired by Islam>
The 'warraqeen' produced work at such a scale that now they are often referred to as human photo copy machines.
Share this


Link to this
Printer Friendly