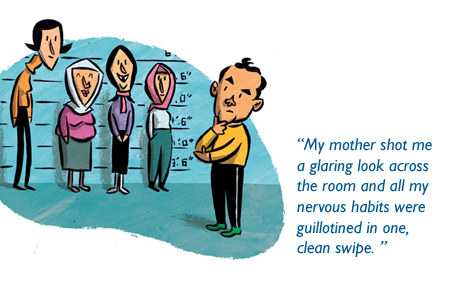 Saturday Talk Show
Issue 62 November 2009
But what's the point? It's just going to be another failure and I hate imposing on people like that. Please cancel," I pleaded with my mother. Yet again, she had organised for me to meet a 'potential' at a family friend's house. I love how parents actually think that's common ground – a friend's house – like sitting in a crowded room, trying to instigate a conversation with your (potential) future wife with your third cousin, once removed and your doctor's brother's wife who knows your mother from the surgery surrounding you is common ground! "Anyway, she's so young. Is she sure she's ready to get married at 22? I really think we should reconsider."
Needless to say, my protests fell on deaf ears and I found myself sitting in a small front room (third cousin and doctor's brother's wife in tow) with a cup of tea and the infamous oreos on MY Saturday afternoon. Sitting directly opposite me, was Farah; the 22 year old, Business-graduate potential. Despite the fact that I had been in this position about twelve times in the past two years, I hadn't quite managed to conquer all the nervous throat-clearing, foot-tapping and unnecessary sniffling. My mother shot me a glaring look across the room and all my nervous habits were guillotined in one, clean swipe...
To read the rest of this feature, get your latest issue of emel magazine >
1) Delivered to your door for only £3.50 with FREE Postage and Packaging
You can get your latest issue of emel with FREE Postage & Packaging.
Contact us now and we will send you the latest issue of emel for £3.50, with absolutely no extra cost for postage and packaging.
Call us on 020 7328 7300 or email info@emel.com
2) Find your Local Stockist
Your latest issue of emel is also available in stores nationwide including WHSmith and Borders.
3) Subscribe for one year - now only £29.95
You can subscribe for only £29.95 (that's 50% off the standard UK subscription price) and get 12 issues delivered straight to your door, every month..
Call us on 020 7328 7300 or email info@emel.com
Share this


Link to this
Printer Friendly