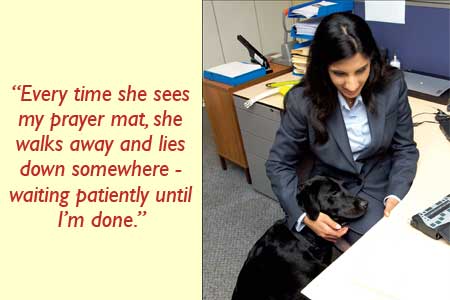 Sana Viner
Issue 62 November 2009
Trainee solicitor, Sana Viner leads a hectic lifestyle. Here, she discusses the advantages of keeping a guide dog, despite the taboo in the Muslim community.
A co-worker comes in to place some files on my table, and stops to have a quick chat about the weekend. Suddenly, she lets out a yelp, 'Oh my God! I didn't even realise there was a dog in here; she's so quiet!' I laugh knowing that Amelia is probably pleased with herself, aware of the fact that she is being complimented. Under my desk, she lounges in her cosy bed with an extensive collection of toys scattered around her.
Before I got Amelia, I used to walk with a cane. I have a genetic eye condition in which my retinas did not develop and as a result I was born blind. As a trainee solicitor working in the city, my life is quite hectic. Getting around Birmingham city centre can be a real challenge and so my husband suggested getting a guide dog. I always thought my mobility was fine but once I got Amelia, I quickly saw the advantages over a cane. I was able to move much faster and finally had the opportunity to actually go for walks for pleasure as opposed to walking only when I had to.
To read the rest of this feature, get your latest issue of emel magazine >
1) Delivered to your door for only £3.50 with FREE Postage and Packaging
You can get your latest issue of emel with FREE Postage & Packaging.
Contact us now and we will send you the latest issue of emel for £3.50, with absolutely no extra cost for postage and packaging.
Call us on 020 7328 7300 or email info@emel.com
2) Find your Local Stockist
Your latest issue of emel is also available in stores nationwide including WHSmith and Borders.
3) Subscribe for one year - now only £29.95
You can subscribe for only £29.95 (that's 50% off the standard UK subscription price) and get 12 issues delivered straight to your door, every month..
Call us on 020 7328 7300 or email info@emel.com
Share this


Link to this
Printer Friendly