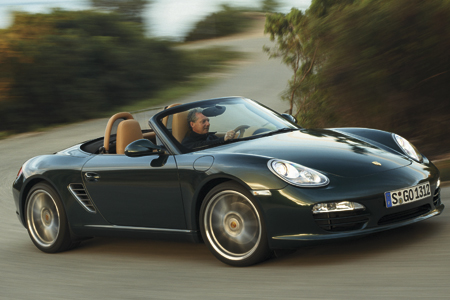 The Adrenalin Rush - Porsche Boxter
Issue 62 November 2009
Fazeel Ashraf gets a taste of life in the fast lane and discovers that the Porsche Boxster is more than just a cliché.
You're such a cliché'- Let's face it, we all utter this phrase at some point using it as a mild form of ridicule and yes, you probably have been stuck in a room with a David Brent wannabe; streaming endless phrases and trying to coin a new buzzword that drives you up the wall. Take for example, the phrase 'thinking outside the box'. We have all heard this one far too many times. What does a box have to do with thinking ,anyway? Or how about 'Lets throw it against the wall and see if it sticks'. Who, over the age of five, throws things against the wall? And how many things even stick when you throw them?
On the other side of the fence some clichés are there for a reason, and they might not always be bad. 'Don't believe everything you read' is something we have all fallen victim to at some point in time. But be honest, how many of you read 'The Da Vinci Code' and thought the Illumanati are actually trying for a New World Order? Or my favourite, that I read recently, was about someone who started rumours in Saudi Arabia that antique sewing machines contained traces of red mercury, causing people to go and purchase these things at twenty thousand pound premiums. Now please don't go away thinking you shouldn't believe what is being written here but as with a lot of things in life, one should take it all with a pinch of salt.
The Porsche Boxster, which I have been driving for a couple of days, seems to come with its own handbook of clichés but the challenege is to find out which of them reign true? The original Boxster has been around for a good ten years now and apart from the redesigned lights and a slight change in the profile of the nose, there isn't much to distinguish this model from the previous generation- though the front and rear LED lights do help provide the revamp it craved for.
To read the rest of this feature, get your latest issue of emel magazine>
1) Delivered to your door for only £3.50 with FREE Postage and Packaging
You can get your latest issue of emel with FREE Postage & Packaging.
Contact us now and we will send you the latest issue of emel for £3.50, with absolutely no extra cost for postage and packaging.
Call us on 020 7328 7300 or email info@emel.com
2) Find your Local Stockist
Your latest issue of emel is also available in stores nationwide including WHSmith and Borders.
3) Subscribe for one year - now only £29.95
You can subscribe for only £29.95 (that's 50% off the standard UK subscription price) and get 12 issues delivered straight to your door, every month..
Call us on 020 7328 7300 or email info@emel.com
Share this


Link to this
Printer Friendly