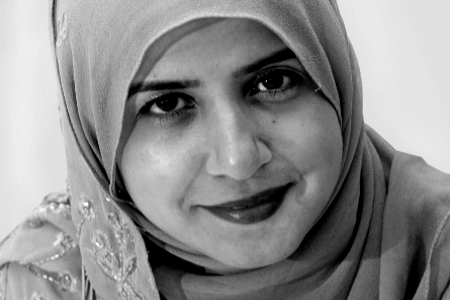 Hopes for a Post-Veil Society
Issue 63 December 2009
Earlier this year, the head of of Al-Azhar Islamic university found himself in agreement with Italy's extreme right-wing Northern League, the BNP's anti-immigration anti-Islam stance and Turkey's rampantly secular constitution. The subject was the veiling of Muslim women, a topic that makes for unlikely bed-fellows.
Al-Tantawi, the senior sheikh at al-Azhar, was visiting a girl's school when he told an 8th grade student to remove her face-veil saying, "the niqab has nothing to do with Islam and it is only a mere custom," adding bluntly, "I understand the religion better than you and your parents."
At his insistence she removed the veil. Whereupon he remarked shockingly: "You are actually like this. What would you do if you were even a little beautiful?"
Whether you agree or disagree with his intervention, it surprises me that a scholar –and role model - feels that he can publicly intimidate a young woman, and that he has a right over a woman's clothing, defining and commenting on her intelligence, her family and her looks.
French president Sarkozy used the historic occasion of his first speech in the French parliament to pick out the veil as an issue of primary concern to the French public. It was subsequently reported that only 367 women in France's population of over 62 million wear the face veil. This raises questions about why the veil is of greater concern than other issues relating to all women, across all social groups. For example, why not raise the serious topic of domestic violence, whose victims numbered a heart-rending 47,000 in France in 2007? Further, I found it spooky that French intelligence could offer such a specific number of niqab-wearers – were these women being monitored?
To read the rest of this article, get your latest issue of emel magazine>
1) Delivered to your door for only £3.50 with FREE Postage and Packaging
You can get your latest issue of emel with FREE Postage & Packaging.
Click here for terms and conditions
Call us on 020 7328 7300 or email info@emel.com.
2) Find your Local Stockist
Your latest issue of emel is also available in stores nationwide including WHSmith and Borders.
3) Subscribe for one year - now only £29.95
You can subscribe for only £29.95 (that's 50% off the standard UK subscription price) and get 12 issues delivered straight to your door, every month..
Call us on 020 7328 7300 or email info@emel.com
Share this


Link to this
Printer Friendly