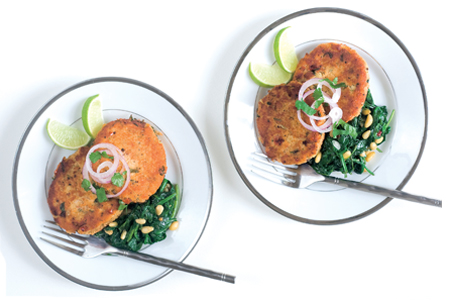 Waste Not, Want Not
Issue 63 December 2009
This season let Huma Mehdi guide you through five of her favourite festive tips to transform last night's turkey leftovers.
Recipes and food styling: Huma Mehdi and Fatema Bandali
Photography: Steve Lawson
Shami Kebabs
Serves 4-6
Ingredients
400g cooked turkey meat (shredded)
2 plum tomatoes finely chopped
2 medium sized potatoes, boiled and
mashed
1 medium onion finely chopped
½ teaspoon course black pepper
½ teaspoon course red chilli flakes
1 teaspoon garlic powder
½ bunch of fresh coriander, chopped
2 green chillies finely chopped
juice of 1 lemon
zest of ¼ lemon
1 medium sized egg
2 tablespoons corn flour
1 slice of white bread made into
breadcrumbs
oil to fry, salt to taste

Method
1. Put the turkey meat in a food processor and blend until smooth
2. Add the remaining ingredients to the mashed potatoes and mix well
3. Combine the mash mix with the turkey paste and mix again
4. Heat a little oil in a frying pan
5. Shape a golf ball sized bit of the mix into burgers
6. Shallow fry until golden brown on a medium heat
7. Serve with a salad of sliced onion, tomatoes and cucumber and a squeeze of lime juice. Alternatively combine the salad with a little Greek yoghurt to make a dip
Other recipes this month include:
Creamy Turkey and Vegetable Pie
Turkey Rice Salad
Turkey Korma
Turkey Sandwich
To find more of our enticing recipes, get your latest issue of emel magazine>
1) Delivered to your door for only £3.50 with FREE Postage and Packaging
You can get your latest issue of emel with FREE Postage & Packaging.
Click here for terms and conditions
Call us on 020 7328 7300 or email info@emel.com.
2) Find your Local Stockist
Your latest issue of emel is also available in stores nationwide including WHSmith and Borders.
3) Subscribe for one year - now only £29.95
You can subscribe for only £29.95 (that's 50% off the standard UK subscription price) and get 12 issues delivered straight to your door, every month..
Call us on 020 7328 7300 or email info@emel.com
Share this


Link to this
Printer Friendly