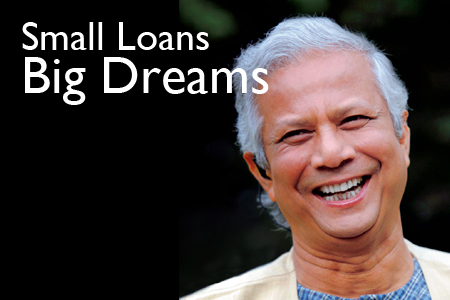 Small Loans, Big Dreams
Issue 63 December 2009
Hailed as a means of alleviating poverty in the developing world, interest in microfinance programmes has rocketed. Nasser Amin explores the dimensions of the microcredit phenomenon.
A criticism often levelled at intellectuals is that they seldomly engage with the outside world. In 1974, an Economics Professor at a Bangladeshi university made a momentous journey that would serve to challenge that notion. Taking a short trip to an impoverished village situated uncomfortably close to his university campus, he handed over the equivalent of £15 to dozens of grateful female basket weavers. Yet, this was no ordinary act of philanthropy, but a loan to be repaid one day by the villagers.
The professor, Mohammed Yunus, had no inkling at the time that his essential idea would one day be vaunted by Western governments and an increasing number of banks, aid agencies and charities as the panacea to world poverty –or that it would result, some thirty years later, in his winning the Nobel Peace Prize.
A simple concept, microfinance is the practice of supplying very small loans to poor families and small businesses in developing countries that would otherwise be unable – because they lack sufficient collateral or 'credit worthiness' – to secure investment funds from banks. The loans are used by households to finance small enterprises, making the recipients largely self sufficient, rather than dependent on aid packages. The proceeds provide a valuable source of income, which can be used to fund anything – from a child's education or the rebuilding of a home.
Lenders rely on peer pressure to ensure repayment of loans from the impoverished borrowers. Arranged into lending circles within their village, borrowers are collectively required to honour repayment schedules for each individual debtor, otherwise the whole village may be refused credit in future. As a last resort and in cases of wilful defaulting, legal proceedings can normally be commenced. The method appears to be highly successful: Grameen Bank, which Mohammed Yunus established in 1983, has now loaned some £3 billion to over six million Bangladeshis. It reports a remarkable repayment rate of 97% - a figure that would be the envy of a Western commercial bank at any time, let alone in the throes of a global financial crisis.
To read the rest of this article, get your latest issue of emel magazine>
1) Delivered to your door for only £3.50 with FREE Postage and Packaging
You can get your latest issue of emel with FREE Postage & Packaging.
Click here for terms and conditions
Call us on 020 7328 7300 or email info@emel.com.
2) Find your Local Stockist
Your latest issue of emel is also available in stores nationwide including WHSmith and Borders.
3) Subscribe for one year - now only £29.95
You can subscribe for only £29.95 (that's 50% off the standard UK subscription price) and get 12 issues delivered straight to your door, every month..
Call us on 020 7328 7300 or email info@emel.com
Share this


Link to this
Printer Friendly