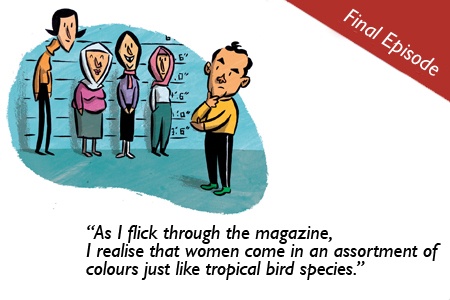 Birds of a Feather
Issue 63 December 2009
Walking to the station this morning, I recalled a Greek mythology lesson I had in high school. The great Socrates once professed, "My advice to you is to get married. If you find a good wife, you'll be happy; if not, you'll become a philosopher."
Socrates, unlike the rest of us, had the best of both worlds, however. Not only was he happily married with three sons, but he had successfully acquired the reputation of a great philosopher during his lifetime. I, on the other hand, have spent this past year in and out of floral-patterned drawing rooms of various aunties in my mission to find a bride and give my mother a grandchild before she "leaves this earth with a gaping hole" in her "desire to give the kind of love only possible for a grandchild." That's not dramatic at all, I tell her, and I should most definitely marry any girl who is remotely available to produce offspring that my mother can then spoil and cherish. "Not unrealistic at all, mother," I say.
Ultimately, my mother's burning desire to be a grandmother is not the only reason I embarked on a mission to find a bride. The older I got, the more tiresome I grew of 'laddish' company – hours spent discussing the deep and meaningful aspects of life, like how many ounces your mobile phone weighs was starting to evoke a numbness in my being. I do, of course, cherish the time spent with my friends and their companionship is irreplaceable but ultimately, I felt like I needed something more – a greater responsibility and the opportunity to provide security and love.
Arriving at the station, I realise that perhaps I have been trying too hard. Why not just leave it up to fate? But if fate is my conclusion on this matter, then I've just spent a year of my life getting high blood pressure for nothing. But I guess everything is an experience and being berated over my supposed 'unreal doctor degree' and my 'unmanliness', paired with my 'inability to communicate' has most definitely taken me through a journey of discovery.
To read the rest of this article, get your latest issue of emel magazine>
1) Delivered to your door for only £3.50 with FREE Postage and Packaging
You can get your latest issue of emel with FREE Postage & Packaging.
Contact us now and we will send you the latest issue of emel for £3.50, with absolutely no extra cost for postage and packaging.
Call us on 020 7328 7300 or email info@emel.com.
2) Find your Local Stockist
Your latest issue of emel is also available in stores nationwide including WHSmith and Borders.
3) Subscribe for one year - now only £29.95
You can subscribe for only £29.95 (that's 50% off the standard UK subscription price) and get 12 issues delivered straight to your door, every month..
Call us on 020 7328 7300 or email info@emel.com
Share this


Link to this
Printer Friendly