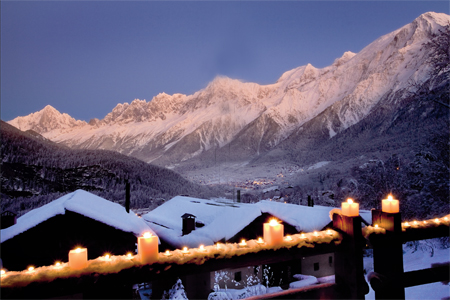 Enchanting Escapes - Winter Log Cabins
Issue 63 December 2009
From lakeside locations to majestic mountains, cosy up with your loved ones this winter. Amena M. Sacranie and Huda Chaudhry bring their pick of idyllic cabins and retreats.
Les Granges D'en Haut Resort and Spa in Chamonix; France
Home to the magnificent Mont Blanc region in the French Alps, Chamonix Valley offers breathtaking panoramic views. Chamonix has a vast selection of log cabins to hire out with a range of different prices, but we found Les Granges D'en Haut Resort and Spa embraces all the valley summits. It is a collection of luxurious chalets on the edge of these staggering slopes, tucked away among pine trees. Each of Les Granges' log cabins and chalets have been meticulously renovated and furnished with refinement. Vintage ornaments and furniture, sourced from all over the local region, is reminiscent of a distant era.
These log cabins come with an added touch of luxury: lounge, dining room, fully equipped kitchen, cosy bedrooms and pretty bathrooms.
Everywhere there are paintings from alpine artists, flannel bed linen in winter, and a brightly burning fire place. What more could you ask for in your winter getaway?
Eating in France is always refined, there are many places of interest in Chamonix: for a lovely meal try out the trendy, 'nouveau French' restaurant le Basilic, in Les Houches; perfect for authentic French food. If you find you've had enough of rich cuisine, try out some Japanese; Satsuki for some mouth watering yakisoba noodles!
Chamonix boasts a long ski season from December to May. Discover the extensive ski area with terrain up to 3800m, over 200 lifts and 700km of piste – there's something to suit beginners and also those at more expert level.
There are numerous places to sightsee in Chamonix, one of them being the Musée des Cristaux, a museum with an impressive collection of crystals mostly from Chamonix. Another site you must not miss is the Mer de Glace (Ice Sea), one of the biggest glaciers in continental Europe: nature at its best.
To read up on the rest of the travel destinations listed below, pick up a copy of the magazine -
2) Yllas Northern Lights Log Cabin; Finland
3) Under the Thatch; UK
4) Center Parcs - Whinfall Forest Village, Cumbria; UK
5) Iso-Syote; Finland
To read the rest of this article, get your latest issue of emel magazine>
1) Delivered to your door for only £3.50 with FREE Postage and Packaging
You can get your latest issue of emel with FREE Postage & Packaging.
Click here for terms and conditions
Call us on 020 7328 7300 or email info@emel.com.
2) Find your Local Stockist
Your latest issue of emel is also available in stores nationwide including WHSmith and Borders.
3) Subscribe for one year - now only £29.95
You can subscribe for only £29.95 (that's 50% off the standard UK subscription price) and get 12 issues delivered straight to your door, every month..
Call us on 020 7328 7300 or email info@emel.com
Share this


Link to this
Printer Friendly