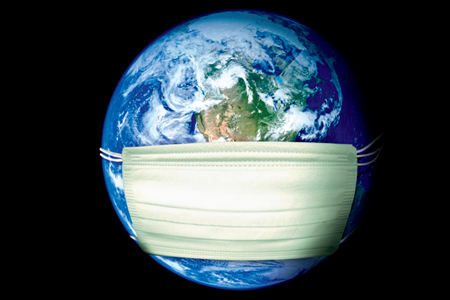 Swine Flu
Issue 63 December 2009
The Swine Flu pandemic has caused widespread panic all over the world. Dr. Noreen A. Kassem discusses the origin of swine flu, it's symptoms and prevention.
History of influenza Epidemics Influenza virus epidemics are not new; they have occurred several times in the last century . The term epidemic refers to an illness that inflicts a disproportionately large number of people in a population at a given time. On the other hand, a pandemic relates to the virus's geographical spread rather than its severity. A flu pandemic is an ongoing worldwide epidemic caused by a new
influenza virus that infects large proportion of people. There are three classes of influenza viruses A, B and C. Viruses in all three classes can affect humans but type A is the one that is responsible for causing illness on a pandemic scale.
What Are The Symptoms of Swine Flu?
All influenza viruses primarily affect the lungs, and in swine flu this is more severe than in a regular flu. Some of the main symptoms of swine flu are the sudden onset of a fever, sore throat, cough and shortness of breath. Other symptoms include runny nose, sinus congestion, sneezing, chills, tiredness, aching muscles, headache and loss of appetite. Individuals who have contracted swine flu have suffered from illness that ranged from mild to severe symptoms. What Are Antiviral Drugs? Antiviral drugs such as Tamiflu and Relenza cannot cure or prevent infection in the fi rst place, but they can treat swine flu and help you recover if they are taken within 48 hours of the onset of symptoms. Antiviral treatments help relieve some symptoms of the flu and reduce the length of time it will take to recover by about a day.
To read the rest of this informative article, get your latest issue of emel magazine>
1) Delivered to your door for only £3.50 with FREE Postage and Packaging
You can get your latest issue of emel with FREE Postage & Packaging.
Click here for terms and conditions
Call us on 020 7328 7300 or email info@emel.com.
2) Find your Local Stockist
Your latest issue of emel is also available in stores nationwide including WHSmith and Borders.
3) Subscribe for one year - now only £29.95
You can subscribe for only £29.95 (that's 50% off the standard UK subscription price) and get 12 issues delivered straight to your door, every month..
Call us on 020 7328 7300 or email info@emel.com
Share this


Link to this
Printer Friendly