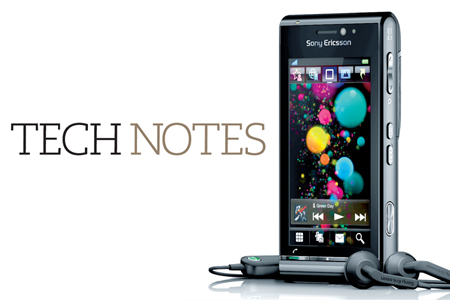 Tech Notes - December 2009
Issue 63 December 2009
By Robi Chowdhury
With Sony Ericsson, you know exactly what you're getting when you turn it on; either a high end camera phone that takes great pictures or a premium music phone that...well, plays great music.
Enter the Satio: a fusion of both the Walkman and Cybershot brands. The Satio boasts a 12.1 mega pixel Xenon Flash camera, wi-fi connectivity, a selection of built-in applications as well as an enormous 3.5'' touch screen sporting 16 million colours.
With its sleek black finish reminiscent of the C905, the screen is a little resistant to touch but an included stylus makes things a little easier.
The Satio is a phone that gives off mixed emotions. Essentially, it is a multimedia hub incorporating an array of new features such as useful applications (akin to the iPhone), combined with some popular old ones (Track ID and geotagging images).
The greatest let down of this phone, though is the clunky and unpredictable user interface that hasn't changed much through the course of Sony Ericsson's history.
There are adequate changes, however, and some good ones at that; this entertainment phone has almost everything you need. Give it a try if you dare.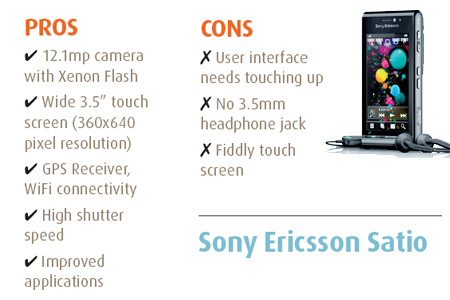 To read the Editors Choice and reviews on a selection of other gadgets, get your latest issue of emel magazine>

1) Delivered to your door for only £3.50 with FREE Postage and Packaging
You can get your latest issue of emel with FREE Postage & Packaging.
Click here for terms and conditions
Call us on 020 7328 7300 or email info@emel.com.
2) Find your Local Stockist
Your latest issue of emel is also available in stores nationwide including WHSmith and Borders.
3) Subscribe for one year - now only £29.95
You can subscribe for only £29.95 (that's 50% off the standard UK subscription price) and get 12 issues delivered straight to your door, every month..
Call us on 020 7328 7300 or email info@emel.com
Share this


Link to this
Printer Friendly