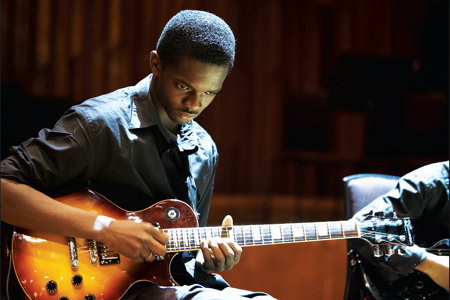 Nitin Sawhney and LSO Strings at St Luke's
Issue 63 December 2009
Review by Syma Mohammed

November 2, 2009

Nitin Sawhney's latest collaboration with the London Symphony Orchestra (LSO) Strings shows that he is going from strength to strength. This performance was part of the Eclectica series, which showcases some of the most innovative and experimental sounds in London. A genius at blending classical, jazz, Indian and Spanish musical genres, it is not hard to see why Sawhney is considered innovative!

Moreover, his music is incredibly expressive. Sawhney says: "For me, music is a filter for emotion." Attending this concert was akin to engaging with an emotional, as well as musical, narrative. The evening navigated a mixture of tracks ranging from the poignancy of songs like The Immigrant, which describes the longing of a would-be immigrant, to the infectious energy of Henrecica Latina.

As the evening featured a diverse range of his work, it was possible to observe the different themes. Earlier albums such as Beyond Skin are nostalgic and seem to focus on culture, heritage and what it is to be human. Letting Go, a classic track, has the ability to get under the skin, especially when Tina Grace is singing it. Later albums still explore these themes, but also meditate on identity, the notion of home and global issues.

Homelands, also performed, is a mix of both Indian and Portugese traditions. Sawhney's most recent album, London Undersound, is very much rooted in the city he lives. Although it deals with political issues – for example, Days of Fire talks about how much London has changed since 7/7 – the nostalgia and sadness are gone. The album is still reflective, but feels more upbeat, almost as though he has found home. Charu Keshi Rain, featuring Anoushka Shankar (Ravi Shankar's daughter), is a beautiful meditation on a classical Indian musical tradition.

Distant Dreams, on the other hand, is a funky modern jazz number. An impressive performance combined with the moody ambience of St Luke's made this an evening to remember. What I admire most about Sawhney's work is the fact that it defies being limited by boundaries. He himself says: "Some people say I cross boundaries but if you never feel that those boundaries exist, you never feel that you're doing that...the whole world is my palette." In a world keen to operate on labels, Sawhney's music inspires the realisation that the world is rich for picking, if you simply let go.
Share this


Link to this
Printer Friendly