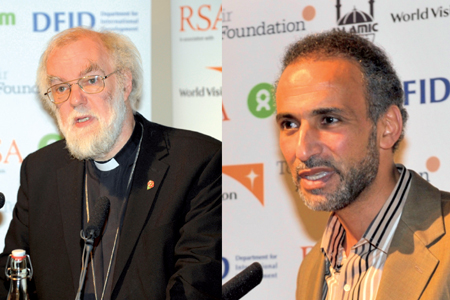 Faithful Development
Issue 63 December 2009
Seminar
Review by Nasser Amin Minar
Ever since St Augustine interpreted the Gadarene swine incident in the New Testament to demonstrate that man has no normative duties to animals, Christian thought has sometimes found it problematic to rise above the exclusively anthrocentric. Later rational philosophers with Christian convictions, such as Aquinas, Descartes and Kant continued to hold the view that man has ultimate dominion over the environment.
On 12th November at the Royal Society, as a conclusion to the 'New Perspectives on Faith and Development' series, the Archbishop of Canterbury Dr Rowan Williams, delivered an erudite lecture on the role of faith communities in the burdensome task of economic, political and social development. Proceeding from the basis that religious commitment is a primary source of identity for many millions of the dispossessed, Dr Williams called on development agencies to recognise these facts and develop a greater degree of "religious literacy". Dr Williams was sensitive to the fact that the secular development establishment has legitimate concerns about whether religious perspectives are always conducive to forming attitudes that remedy, rather than entrench, existing practices of oppression.
Acknowledging that religious communities have sometimes played a malign role, Dr Williams called on believers to eschew an "aggressive religious conservatism" and to relearn the language of human dignity, which he believes, is a fundamental part of all religious traditions. However, Dr Williams rightly reminded us that a preoccupation with the particular, as against the universal, is not the preserve of some religious conservatives, but rather appears to be a growing trend, including some 'fundamentalist' varieties of human rights discourse, which can have a rather "thin view of the human good."
Seeking to move beyond a "debilitating" donor culture that treats the poor as clients and the rich as patrons, Dr Williams instead calls for a "proper distribution of dignity" in the world to strengthen the distinctively human, with each of us recognising that another's problems are our own. Dr Williams reminds us that the Anglican Church's campaign to write off third world debt was rather more successful than the secular 'Make Poverty History' campaign.
A recent study predicted that the percentage of mankind committed to the four biggest religions in the world shall increase to 80% by 2050. Whilst religious convictions can often serve to perpetuate structural problems in the world, we were reminded towards the end that the pre-eminent Christian virtue is compassion for all. Dr Williams, though offering little in the way of substantive policy recommendations during the lecture, is surely a representative of that noble tradition.
Share this


Link to this
Printer Friendly