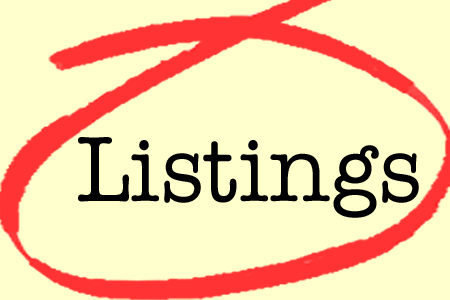 Listings - January 2010
Issue 64 January 2010
5 December 2009 - 24th January

Landscape Photographer of the Year 2009
The annual awards are now in their third year running, celebrating the beauty and diversity of the country. Awards founder, Charlie Waite, will be giving talks on his approach to landscape photography. These will last approximately 30 minutes and he will be sharing his thoughts and opinions on the finer aspects of the work selected.
Venue: Lyttelton Exhibition Space
More Info: To book call
020 7452 3000
25th - 27th January

Asia Expo
The three day Expo is a business convention that will bring suppliers from Pakistan, Indian and Malaysia to name just a few of the countries taking part. Featuring items from homeware to fashion accessories and offering an exclusive look at new items. Also a good place to meet and have direct contact with Asia and China based manufacturers
Venue: Olympia Grand & National Halls, Hammersmith Road, London W14 8UX
More Info: 020 7385 1200
www.londonasiaexpo.com
12th January- 2nd March

Iran Past, Present and Future
A course exploring the Islamic Republic of Iran. The course will seek an explanation, attempting to understand Iran through its history and politics.
Tickets: £42.00
Venue: Keelby Church, Annexe, St Bartholomew's Church, Lincolnshire, DN41 8EE.
More Info: 0113-245-3304
13th- 17thJanuary

London Art Fair
Visit the London Art Fair to see artwork carefully selected from 100 galleries, showcasing up to date British and global modern art. Mostly paintings are on show, along with sculpture, photography, videos and installation art. Discussions with experts will be held and visitors will be encouraged to share their views.
Tickets: £15
Venue: Business Design Centre, 52 Upper Street, Islington, London
More Info: 0844 848 0137
13th- 31st January

London International Mime Festival 2010
Professional mime actors will be performing at various venues in central London. Good fun for everyone and definitely a hit with children.
Venue: Soutbank Centre, Barbican, ICA, Clore Studio, Shunt Vaults, Various Venues
More Info: 0207 637 5661
18-23rd January

Voice of Freedom
Celebrating Martin Luther King Day and Barack Obama's first year in office, Rich Mix will feature the lives of influential Black leaders. Events include theatre, film, spoken word and live music. (Pictured right)
Venue: 35-47 Bethnal Green Road, Lodnon, E1 6LA.
More Info: 0207-613-7498
www.richmix.org.uk
23rd- 24th January

The Diet and Fitness Show 2010
Kick start you new year at Olympia where you will be able to receive expert advice on a huge range of dieting and fitness methods. Find out what is best for your lifestyle needs. The show will be packed with fun cookery classes, nutritional information, and boot camps making exercise more fun.
Venue: Olympia, Hammersmith Road, Kensington, London, W14 HUX
More Info: 0178-722-4040 27
27th January

Feeding the Five Hundred Thousand: The Food Supply of Baghdad in the Early Islamic Period
The Centre of Islamic Studies Seminar Series aims to provide a forum presenting a wide variety of subjects relating to the Arab world and Islamic tradition. Speakers are invited from varied academic and professional backgrounds.
Venue: SOAS, University of London, Thornhaugh Street, Russell Square, London, WC1H 0XG
More Info: cis@soas.ac.uk
6th- 24th January

Varekai- Cirque du Soleil London
This New Year head off to the circus for the colorful extravagance of Varekai. Part of the Cirque du Soleil group, it is set to astound and amaze audiences. It promises to be a show stopper and the crowd should be expecting to see explosive drama and incredible acrobats.
Venue: Royal Albert Hall, Kensington Gore, Westminster, London, SW7 2AP
More Info: 0845 401 5045
Classes running every month

Learn How to Transform Your Windows!
Turn each of your windows into a design feature by making your own bespoke curtains and blinds. Attend a 1-2 day workshop, delivered in a friendly, relaxed setting. All levels are catered for whether you're a complete novice or confident sewer.
More info: www.alflamboyant.co.uk or call 07919512277
19th January - 6th February

I am Yusuf and This Is My Brother
Palestinian theatre company ShiberHur and the Young Vic come together to produce a compelling new play by Amir Nizar Zuabi. With peace negotiations
in the Middle East deadlocked, this powerful story arrives at the Young Vic direct from touring Palestinian towns, villages and refugee camps in Israel and the West Bank "January 1948. The British Mandate is ending. The United Nations vote on who will control what part of Palestine. Ali has a burning passion for Nada but he is in despair. Her father won't let them marry because his brother Yusuf is 'odd' with his own eccentric, child-like point of view. Rufus, a soldier on the occupying British forces, longs for the cold fogs of Sheffield. War begins. The villagers mourn the loss of the land as unimaginable change takes place around them. A poetic exploration of loyalty and love from the frontline."
Venue: Young Vic Theatre, 66 The Cut, London, SE1 8LZ
More info: 0207 922 2979
Share this


Link to this
Printer Friendly