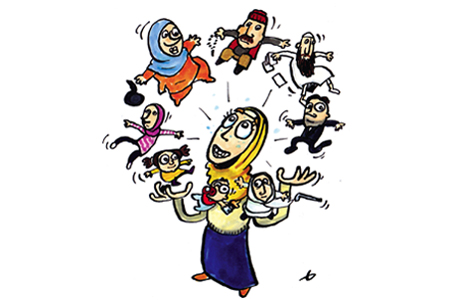 Dinner with the family gets complicated
Issue 64 January 2010
It's not easy being part of a big family. Still, no one can love you like your family does; sometimes maybe a little too much.
Take for instance last Thursday. After sprinting a mile in my new cashmere sweater, I finally arrived to pick up my boys from school. Huffing and puffing, I reached the front gates 15 minutes late to find their enormously judgmental teacher waiting with them in the playground. It doesn't help that this teacher is also my husband's cousin.
"I'm so sorry, Samina," I say to her, "were you waiting long?" Then, turning to the children, "Salam boys – forgive me! All the tube lines are suspended," I say hugging them tight. "Mummy, did you have a shower?" I grin uncomfortably, knowing full well that Samina is not impressed with my lateness or my sweaty state. "You seem a little overwhelmed," she remarks. "Are you still okay for dinner?"
"Oh, of course!" I exclaim, hoping she won't detect hesitation in my high-pitched response. "I'll see you at 7.30."
Once I finally have the boys home and exert my last ounce of patience in convincing them to abandon the PlayStation and take showers, I arrive in the kitchen to find my starters for the evening completely ravaged. Suddenly, 'we're not that hungry mum,' when asked if they'd like a snack before dinner made sense. As I frantically dive into the freezer for samosas and search the cupboards for chutney, the ringing telephone descends on me like a plague. I answer the phone to hear my irritated mother-in-law.
"Where were you? I've been calling and calling. First I rang your mobile - is it on silent? I left you four voicemails - did you get them? Then I rang Abdullah's mobile but he didn't pick up. So then I called his office but they said he had a late meeting. Then I rang Samina's mobile but she didn't pick up, so I rang the school and...." I consider interrupting and reminding her that she has in fact now found me, but then that would mean missing out on the details of which members of the family tree are on what mobile network.
"I left my phone at home, Mum. I was late picking up the boys and..."
"Late! Oh no, they must have frozen waiting outside in the cold. And they're so skinny – you hardly feed them anything. Were they wearing those warm jackets Abdullah's Baba got for them?" I consider telling her the truth; my boys hate it when I ask them to retrieve the jackets from the attic to hang by the door every time she comes over. 'Bomber jackets' were around when I was 12. The boys are convinced they are black bin bags, lined with sheep's wool."
To read the rest of this feature, get your latest issue of emel magazine>
1) Delivered to your door for only £3.50 with FREE Postage and Packaging
You can get your latest issue of emel with FREE Postage & Packaging.
Click here Men's Designer Jackets for terms and conditions
Call us on 020 7328 7300 or email info@emel.com.
2) Find your Local Stockist
Your latest issue of emel is also available in stores nationwide including WHSmith and Borders.
3) Subscribe for one year - now only £29.95
You can subscribe for only £29.95 (that's 50% off the standard UK subscription price) and get 12 issues delivered straight to your door, every month..
Call us on 020 7328 7300 or email info@emel.com
Share this


Link to this
Printer Friendly