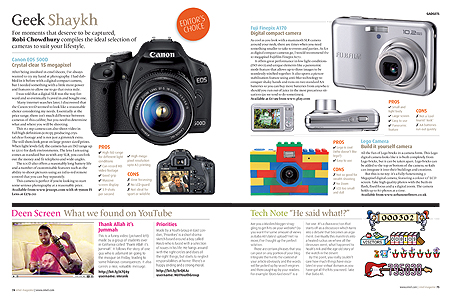 Geek Shaykh - Cameras to suit your lifestyle
Issue 64 January 2010
For moments that deserve to be captured, Robi Chowdhury compiles the ideal selection of cameras to suit your lifestyle.
Canon EOS 500D
Crystal clear 15 megapixel Camera
After being involved in emel shoots, I've always wanted to try my hand at photography. I had dabbled in it before with a digital compact camera, but I needed something with a little more power and features to allow me to go that extra mile.
I was told that a digital SLR was the way forward and so eventually I caved in and bought one.
Many internet searches later, I discovered that the Canon 500D seemed to look like a reasonable choice considering my needs. Essentially at the price range, there isn't much difference between cameras of this calibre, but you need to determine what and where you will be shooting.
This 15.1 mp camera can also shoot video in full high definition (1080p), producing crystal clear footage and is not just a gimmick extra. The still shots look great on large poster sized prints. When light levels fall, the camera has an ISO range up to 3200 for dark environments. The lens I am using comes as standard but as with any SLR, you can fork out the money and fit telephoto and wide-angles.
The 500D also offers a reasonably long battery life and a number of customisable features such as the ability to shoot pictures using an infra-red remote control that you can buy separately.
This camera is perfect if you're looking to start some serious photography at a reasonable price.
Available from www.jessops.com with 18-55mm IS Lens at £579.00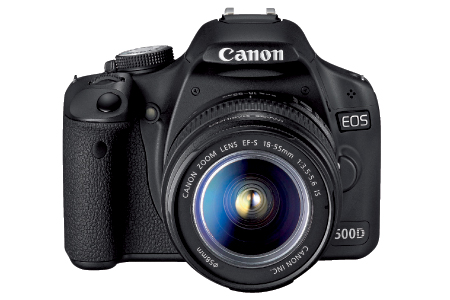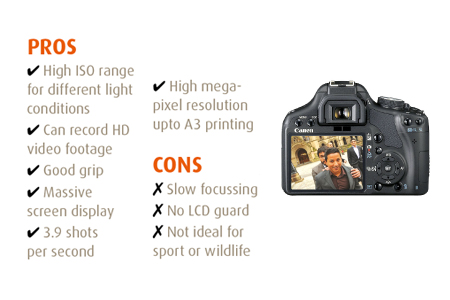 To read the rest of this feature, get your latest issue of emel magazine>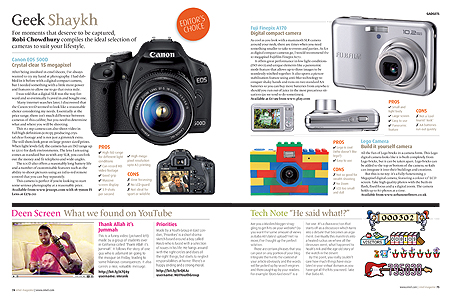 1) Delivered to your door for only £3.50 with FREE Postage and Packaging
You can get your latest issue of emel with FREE Postage & Packaging.
Click here for terms and conditions
Call us on 020 7328 7300 or email info@emel.com.
2) Find your Local Stockist
Your latest issue of emel is also available in stores nationwide including WHSmith and Borders.
3) Subscribe for one year - now only £29.95
You can subscribe for only £29.95 (that's 50% off the standard UK subscription price) and get 12 issues delivered straight to your door, every month..
Call us on 020 7328 7300 or email
info@emel.com
Share this


Link to this
Printer Friendly