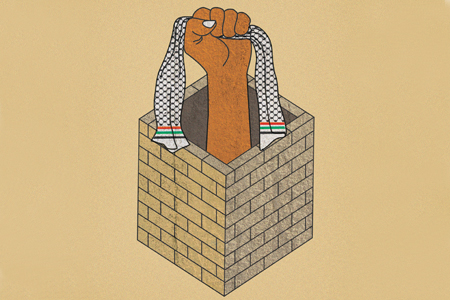 Gaza - A Year on
Issue 64 January 2010
What has changed? And when the conflict in Gaza finally ends, where will it leave us?
By the time you read this, many things may have happened, but little will have changed. As this magazine goes to press at the end of December, the fate of Gilad Shalit, the Israeli soldier captured by Hamas in 2006, as well as the hundreds of Palestinians detained by Israelis, is unknown - although signs are that they may well be released soon. Similarly, the Gaza Freedom March, an international coalition of citizens marching from Egypt to Gaza to highlight the one-year anniversary of the Israeli attack on the Gaza strip, has yet to take place and it is unknown what sort of reaction it may have provoked.
Both unknowns are linked to the continuing fate of the tiny piece of land called Gaza, a place that suffered devastating bombardment during an Israeli assault between December 2008 and January 2009. In the year since, precious little has changed for the caged population of Gaza.
The blockade of Gaza has been going on much longer - it is now in its third year. In the wake of Hamas' victory in the Palestinian elections, Israel said it would only allow in basic humanitarian supplies. The effect of the blockade has been to devastate Gaza, leading to widespread hunger (what the UN calls 'food insecurity'), a virtual collapse of infrastructure to the point where sewage flows in the streets. The blockade has even affected the sea; since the Gaza assault last year untreated sewage has flowed straight in, turning what used to be a thriving beach into empty sand. How bad is it? "We have run out of words to describe how bad it is here," said John Ging, director of operations for the United Nations Relief and Works Agency in Gaza.
All of this was meant to push the population to reject its elected representatives in Hamas, which has not happened. But the punishment of the civilian population has sparked international outrage, which will culminate in the Gaza Freedom March, an attempt to use non-violent resistance to provoke the conscience of Israelis and their politicians.
To read the rest of this feature, get your latest issue of emel magazine>
1) Delivered to your door for only £3.50 with FREE Postage and Packaging
You can get your latest issue of emel with FREE Postage & Packaging.
Click here for terms and conditions
Call us on 020 7328 7300 or email info@emel.com.
2) Find your Local Stockist
Your latest issue of emel is also available in stores nationwide including WHSmith and Borders.
3) Subscribe for one year - now only £29.95
You can subscribe for only £29.95 (that's 50% off the standard UK subscription price) and get 12 issues delivered straight to your door, every month..
Call us on 020 7328 7300 or email info@emel.com
Share this


Link to this
Printer Friendly