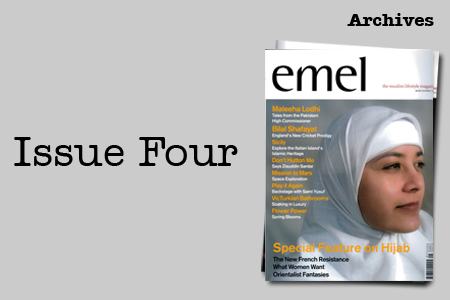 Archives - Issue 4
Issue 64 January 2010
Welcome to the Archives of Issue 4.
Taking a look back we see the debate rages on years later.
The ban on wearing Hijab in France is still a bone of contention 6 years on and we continue to raise awareness of why this is such an important issue. We also take a look at the beginnings of a star; Sami Yusuf, plus a look at health issues such as diabetes, interiors and gardening.
Take a look at the home page of Issue 4 and browse through our features or click on the links below to view specific articles.
Inspired by Islam - Optical Illusions>
A week in the life of Ruqaiyyah Waris>
Sicily, An Island of many Worlds>
Hayfever and how to beat it the natural way>
Face to Faith - Cutting to the Point>
On Mount Nur with Dr Jamal Badawi>
Muslim Marriage: Shaheen and Faiz>
High Society to High Commissioner>
To wear or not to wear, this is the Question>
Editorial - More than just a scarf>
Spoonful of Sugar>
Don't you Hutton Me - Ziauddin Sardar>
Space Exploration - Mission to Mars>
Share this


Link to this
Printer Friendly