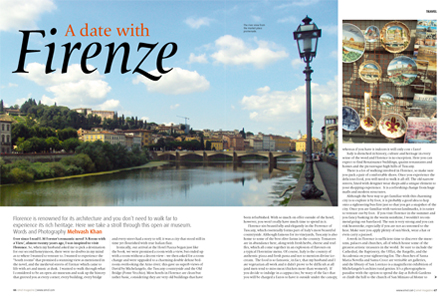 A date with Firenze - Florence Travel Review
Issue 64 January 2010
Words and Photography by Mehvash Khan
Florence is renowned for its architecture and you don't need to walk far to 
experience its rich heritage. Here we take a stroll through this open air museum.

Ever since I read E.M Forster's romantic novel 'A Room with a View', almost twenty years ago, I was inspired to visit Florence. So, when my husband asked me to pick a destination for our second honeymoon, there were no doubts in my mind as to where I wanted to venture to. I wanted to experience the "South rooms" that promised a stunning view as mentioned in the novel, and the medieval streets of Firenze which came to life with art and music at dusk. I wanted to walk through what I considered to be an open-air museum and soak up the history that greeted you at every corner; every building, every bridge and every street had a story to tell; it was a city that stood still in time yet flourished with true Italian flair.
Ironically, our arrival at the Hotel Piazza began just like the book; we were promised a room with a view, but ended up with a room without a decent view – we then asked for a room change and were upgraded to a charming double deluxe bedroom overlooking the Arno river; this gave us superb views of David by Michelangelo, the Tuscany countryside and the Old Bridge (Ponte Vecchio). Most hotels in Florence are clean but rather basic, considering they are very old buildings that have been refurbished. With so much on offer outside of the hotel, however, you won't really have much time to spend in it.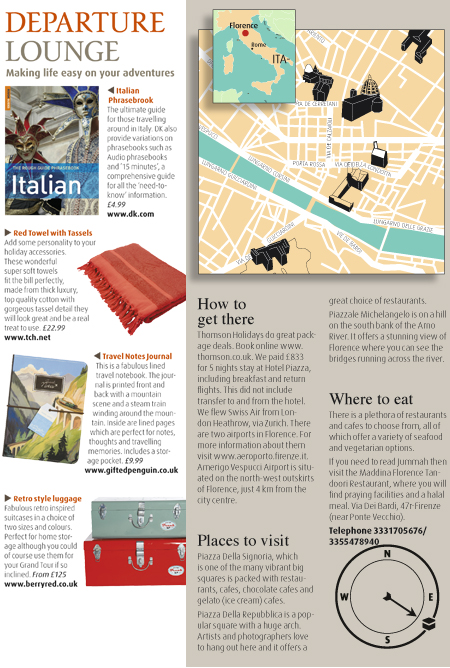 To read the rest of this feature, get your latest issue of emel magazine>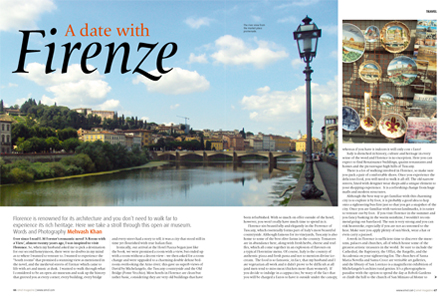 1) Delivered to your door for only £3.50 with FREE Postage and Packaging
You can get your latest issue of emel with FREE Postage & Packaging.
Click here for terms and conditions
Call us on 020 7328 7300 or email info@emel.com.
2) Find your Local Stockist
Your latest issue of emel is also available in stores nationwide including WHSmith and Borders.
3) Subscribe for one year - now only £29.95
You can subscribe for only £29.95 (that's 50% off the standard UK subscription price) and get 12 issues delivered straight to your door, every month..
Call us on 020 7328 7300 or email info@emel.com
Share this


Link to this
Printer Friendly